Study Says That Mental Health Problems Double Among Marijuana Users
Puff, Puff . . . Pass? Mental Health Issues Double in Pot Users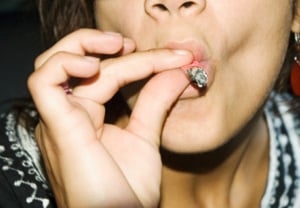 Most of the people I know who smoke pot say that blazing up helps them mellow out and unwind from stress. Now, a new study is reporting that cannabis users suffer from mental health problems twice as much as non-users.
Statistics Netherlands, the author of the study, surveyed almost 18,500 people over a two-year period — from  2007 to 2009. Of that group, 20 percent of male cannabis users said they were suffering from mental problems, while only 10 percent of nonusers reported any. From the women's side, 28 percent of cannabis users suffered from mental health problems, while only 14 percent of nonusers did. Those who reported mental health problems cited anxiety, melancholy, sadness, and impatience.
While this latest study is interesting, it's a survey that barely skims the surface. Is marijuana the cause, or do people with a tendency toward mental health problems seek it out? And, ultimately, do these numbers mean anything — Many poeple feel that marijuana use alleviates many of the mental health issues the users cite. What do you think?