Study Shows High Heels Damage Leg Muscles
High Heels Can Give You Barbie Feet
High heels. You either love them or hate them, but you can't deny they are chic. We love the height boost and illusion of longer legs they offer, but we do realize they're not the best things for our feet. Unfortunately, recent research shows that these lovely shoes may be worse than previously thought.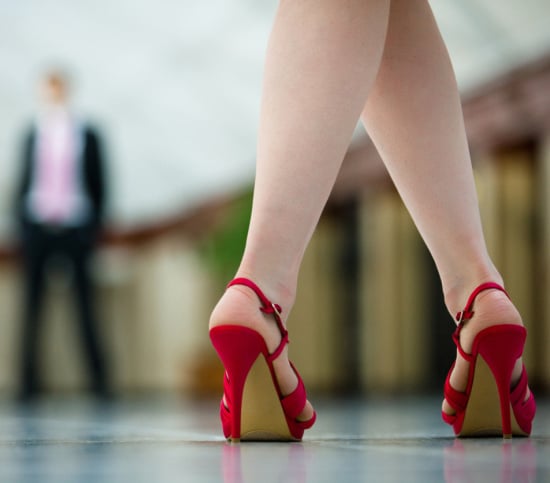 In a study of longtime high heel wearers, published in the Journal of Applied Physiology, researchers found wearing heels actually shortens the fibers of the calf muscle, making the Achilles tendon stiffen instead of flex when walking. High heels keep feet in a pointed position, so even when habitual high heel wearers (those who wore heels at least 40 hours a week) slipped off the pumps, their feet were so used to walking with the heels raised that it became the new norm for their muscles and joints — think permanent Barbie feet. The constantly engaged calve suffers from serious muscle fatigue, but switching abruptly from heels to flat shoes, like sneakers, puts stiletto wearers at a greater risk for injury.
Keep reading to find out what you can do to heal your heel-wearing legs.
While these findings aren't likely to convince a gal to give up heels completely, it's best to limit your heel-wearing days to a couple of times a week and sport flats the other days. If you wear heels often, take some time to stretch out your feet and leg muscles using these recommended stretches — especially if you run. To prevent twisting an ankle, it's important to do exercises that strengthen this joint and the muscles surrounding it. Walking on your heels with your toes in the air is one move you can do, as well as these other preventative exercises. Since heel wearers are prone to Achilles tendonitis (when your Achilles tendon becomes inflamed), give this area of your body some love with this strengthening stretch using a step.
Does this news about heels damaging your leg muscles make you think twice about slipping on your pumps?