Study Shows That Online Weight Management Sites Help Users Lose Weight
Why Going Online Helps With Weight Loss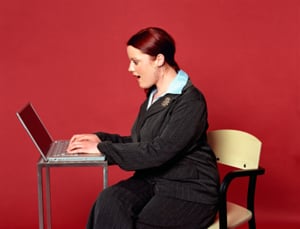 It used to be that we didn't talk about our weight. But that was before the Internet. Now everyone knows our business! Facebook, the Twitter Humiliation Diet, Fitbit, and online weight tracking sites allow users to put their weight struggles under a very public eye. The good news is that it's working. A new study — the Weight Loss Maintenance Trial — suggests that weight loss is easier for people using online weight management websites.
To be included in the study as a whole, participants had to be considered overweight or obese, and had to have lost at least nine pounds within the first six months of the trial. Of this group, 348 individuals were randomly assigned to join an online weight maintenance program. The site tracked the user's weight, diet, and exercise habits — it also included a community forum. Compared to other participants, those who used the site at least once a month maintained the greatest amount of weight loss, and managed to maintain an average 44 percent of their initial weight loss.
My guess is that the accountability and online support group that the website provided was key in helping participants maintain their weight loss. Something about seeing our progress and tracking our food and exercise habits makes it hard to ignore the task at hand. Have any of you had success with online weight tracking websites? If yes, which ones?