Study Shows That Thirdhand Smoke Carries Carcinogens
Forget Breathing In the Fumes; Just Being Near a Smoker Is Bad
Smoking is a bad habit and a serious health risk. It's dangerous even if you're not a smoker: 3,000 nonsmokers die in the US every year due to complications arising from secondhand smoke. Things aren't looking better for us nonsmokers either. A new study suggests that this number has the potential to rise because of risks associated with "thirdhand smoke."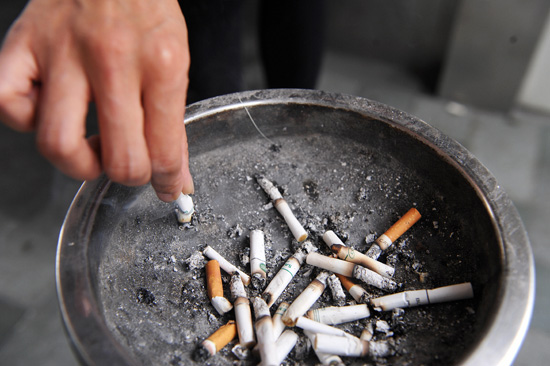 Thirdhand smoke is the residue left behind after a cigarette is put out. It's invisible and settles into clothes, skin, and surfaces, often leaving behind a faint scent of cigarettes. My nose is pretty adept at picking up the scent of cigarettes on clothing, in a room, or even in a car, so I'm pretty certain that I've been around thirdhand smoke before. It's not pleasant, but I never thought that it could pose a risk to my health.
To find out about the dangers associated with thirdhand smoke,
.
Researchers at the Lawrence Berkeley Laboratory were building on earlier research showing that thirdhand smoke is potentially harmful, especially to children and infants. What researchers found this time around is that when nitrous acid — a common air pollutant created by automobiles and gas appliances — is exposed to thirdhand smoke, new carcinogens are created. Researchers at the Lawrence lab found that carcinogen levels increased by 10 times after the two pollutants were exposed to one another.
With the research only in its early stages, there is no way to know how harmful exposure to thirdhand smoke is at this time. However, researchers warn that there is a definite "unappreciated health risk," especially to children. Since thirdhand smoke is a sticky residue, it's recommended that smokers do not smoke in confined spaces like homes or cars and that they wash their clothing and skin frequently. People exposed to thirdhand smoke absorb it through their skin or from breathing in dust. If you live with a smoker, it may help to invest in an air purifier.