Substitute Cream With Evaporated Milk
How Evaporated Milk Can Lower Fat Content in Thanksgiving Dishes
Evaporated milk is a substitution commonly used for cream because of its lower fat content. It can be made up of whole or skim milk and has a shelf life of about a year. This airtight dairy product is made by first homogenizing the milk and then evaporating its water content by gently heating it, leaving a more condensed texture than regular milk. Many evaporated milks are sweetened with caramel or vanilla flavors, but you can purchase it unsweetened for less sugar. Here are some examples of how to use evaporated milk in your holiday recipes.
Pumpkin Loaf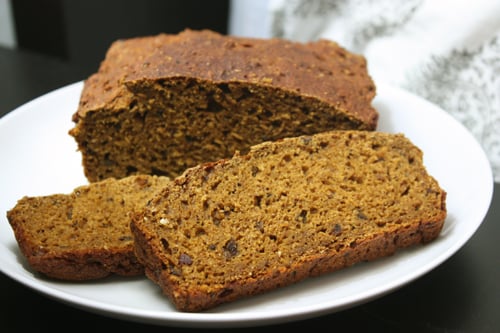 This spice-filled recipe calls for a 1/2 cup of low-fat buttermilk, but you can make a reduced version with your new secret weapon, evaporated milk. To transform evaporated milk, just mix it with an equal amount of water and then add 1 tablespoon of vinegar for each cup of milk (1/2 tablespoon in this case).
Cornbread Stuffing


For even more flavor in this mouthwatering side dish, simply swap in evaporated skim milk for the 3/4 cup serving of regular milk the recipe calls for.
See another way to use evaporated milk after the break!
Creamed Swiss Chard


If you don't have any lactose restrictions, put the cream back into this recipe without using heavy cream. Instead of the cup of unsweetened almond milk this recipe uses, you can use the same amount of unsweetened evaporated skim milk. If you're still on the fence, use a 1/2 cup of each. Since they are both unsweetened, you won't be disguising any flavor, just making it creamier.