Summer Flat-Belly Meal Plan
Start Fresh: A Flat-Belly Meal Plan For Summer
Good news if you're trying to uncover those abs in time for bikini season: many of Summer's in-season produce are just what you need to debloat and slim down your midsection. Take a trip to the farmers market and stock up — this meal plan features fresh Summer produce that help blast belly fat!
Breakfast: Blueberry Green Monster Smoothie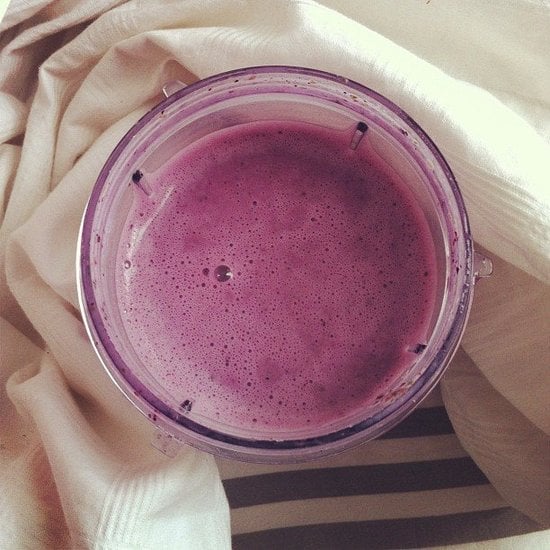 Start your day on the right foot with a light, nutrient-packed breakfast. This blueberry green monster smoothie lets the Summer berry shine — and for good reason, since a diet rich in blueberries may help you shed abdominal fat. With a good helping of protein from Greek yogurt and protein powder, this smoothie will help you power through your morning.
Snack: Cantaloupe Bowl
Make snack time a little more fun by making a cantaloupe boat. Cantaloupe is an ideal Summer food if you're trying to fight bloat — the fruit is high in potassium to combat a salt overload and also is a good source of fiber. This cantaloupe boat features nonfat Greek yogurt, granola, chia seeds, and almonds. The calcium in dairy (and other foods) has been shown to help suppress fat cells as well, but if you're cutting back on dairy, opt for sliced fruit and a sprinkle of nuts or seeds to fill your cantaloupe instead.
Lunch: Avocado Strawberry Lime Salad
Avocado is so delicious, it's an added bonus that it contains high levels of healthy fats called monounsaturated fatty acids (MUFAs), which have been shown to help melt away belly fat. Load up at lunch with this creamy, summery salad: avocado, strawberries, almond slivers, and kiwis, topped with a honey lime dressing.
Dinner: Thai Basil Pesto Zucchini Pasta
Summer squash like zucchini are prime choices for your flat-belly plan, since they're a good source of fiber as well as a pectin that may help regulate blood sugar. Additionally, Summer squash has anti-inflammatory properties to help quiet digestive upset. Flat-belly benefits aside, all you'll be thinking as you eat this Thai basil zucchini pasta is just how light, flavorful, and satisfying it is!