Summer Olympian Tips on Exercising in Heat
Learn to Beat the Heat Like an Olympian
Summer heat doesn't stop Olympic athletes from getting their sweat on, so why should it stop you? If you're having trouble dealing with the high temps and humidity during these sweaty, sweltering Summer months, here are some heat-beating tips straight from the athletes themselves.
Keep skin safe: For Olympic soccer player Alex Morgan, spending much of her day on a hot field puts her at risk for sun damage. To protect her skin, she applies Hope in a Jar moisturizer with SPF by Philosophy. Sunshine on bare skin will raise your body temperature; according to Women's Health, rower and Olympic gold medalist Erin Cafaro wears long-sleeved shirts, a hat, sunglasses, SPF lip balm, and sunscreen on exposed skin during her two-hour outdoor workouts.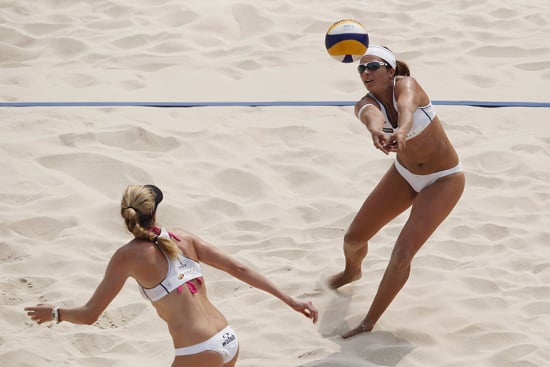 Tone it down: Two-time Olympic gold medalist volleyball player Kerri Walsh says, "When it is hot, I will curtail my warmup, because your body warms up faster. I can put that extra energy into my workout and be more effective with my time that way. Generally I will [also] limit my workout time if the heat starts to get to me and work hard for 30 minutes instead of an hour. Sometimes I will also just adjust my intensity, but still work out as long."
Get cool before you sweat: Marathoner Deena Kastor is all about something called "precooling." Minutes before racing in the 2004 Summer Olympics, she wore an ice vest in an air-conditioned room. It helps to lower your core body temperature, which increases your endurance when working out in the heat. Try your own version by taking a cold shower and hanging out in the AC while drinking ice water before heading out for your Summer workout.
Hydrate before workouts: In her book Running For Women, marathoner Kara Goucher repeatedly emphasizes the benefits of staying well hydrated all the time. In the heat it's important to go into a long run well hydrated; drink water the day before your runs and races, not just during your workout.