Summer Sun and Heat Safety Tips
Stay Safe During a Day in the Heat
Summer is an obvious time for large outdoor events — bright sunny days, high temperatures, and a general feeling of relaxation perfect for sporting events, music festivals, picnics, and other celebrations. Unfortunately, it's also a time for sunburn, dehydration, and other heat- and sun-induced problems. Here, a reminder of things to think about before heading out for a long day in the sun.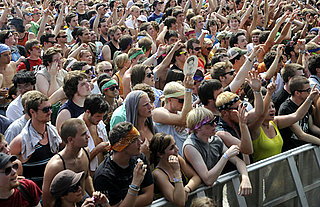 Stay hydrated. I'm sure you'll hear this advice all Summer long, but there's a reason that everyone keeps reminding you to drink water. It prevents dehydration, which will not only cause you to miss out on the event, you'll be feeling icky, too.
Wear sunscreen. If you look sunburned and feel sunburned it's too late! Protect yourself with SPF 15 or higher. Not only will you avoid a painful burn, you'll protect yourself from harmful UV rays that can cause skin damage, wrinkles, and cancer.
Find out the rest of my tips when you read more.
Watch what you eat. Between foods that zap your energy, which will leave you sluggish and lethargic all day, and salt-laden favorites like french fries and corn dogs (come on, who can resist?), what you put in your body will have a direct effect on your energy level throughout the day.
Watch what you drink. It's best to avoid alcohol and caffeine all together when you're spending a day in the sun, but if you're a music festival and sports fan like me, a couple of frosty beers are practically a necessity on a perfect Summer day. Balance each alcoholic drink with at least one glass of water.
Bring your own water bottle. Many outdoor events provide free water refills for patrons. In addition to being eco-friendly (no plastic bottles!), bringing your own refillable bottle is wallet-friendly, too. Just remember that most venues won't allow you to come in with a full bottle, so arrive with it empty.
Pack sunglasses. Increased UV exposure is not only bad for your skin, it's bad for your eyes, too; too much exposure can lead to cataracts and glaucoma. Contact lenses protect your irises, but since they don't cover the entire eye, parts of it are exposed.