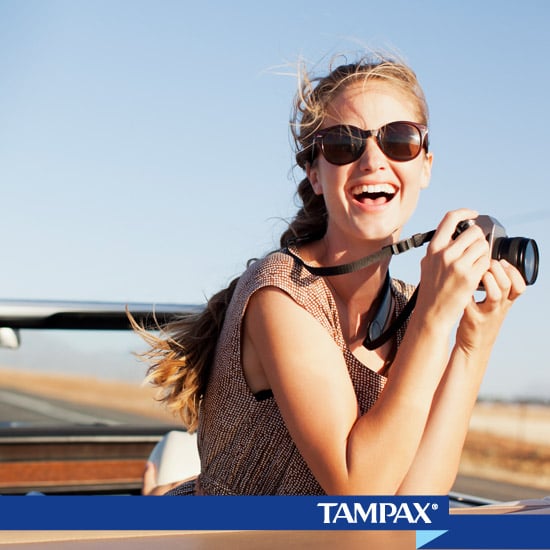 You've aced your exams, finally figured out how to peacefully coexist with your roommate, and maybe even found your niche within a sorority or campus organization. Now Summer break is here, and your only worry is having enough time and freedom to enjoy every second of it!
One concern you can definitely cross off your list: your period. Whether you're putting together the perfect white party ensemble or hitting the pool for a swim, playing volleyball with friends or embarking on a travel adventure,Tampax Pearl offers superior protection (and confidence!) when you need it most.
Ready for your best Summer ever? Make it one to remember by getting your closest friends together to enjoy some of these spotlight activity ideas:
Concerts: See which of your favorite bands are playing in an outdoor arena or park in your local area, or open your ears to some new talent. Discovering the next big alt or indie sensation is what coeds do best.
Camping: If you could survive "roughing" it in the dorm all year, you and your pals should have no trouble setting up camp and eating and sleeping under the stars. Keep it simple with s'mores and ghost stories, or visit a park or grounds that offer added adventures like white water rafting, hiking, or fishing.
Boardwalk/Theme Park: Indulge your fearless side on the latest monster roller coaster or sky-high water slide. And even though you have no shortage of digital cameras among you, splurge on the automatic (if overpriced) theme park pic of you and your BFFs screaming your heads off together. It's a memento you'll treasure for years to come.
Road Trip: A collegiate classic! Pick a long weekend (or two) and escape from your Summer job (not to mention the minor frustrations of being home again with your parents). Choose one destination and map out some fun stops along the way, or keep the itinerary loose and just go where the road takes you!
Beach/Lake House: You've finally reached the age of independence (for the most part) — if your parents or family has access to a weekend getaway, see if they'll let you and your besties meet up there for a few laughter-filled days and nights. Or, see where everyone else is hanging this Summer and organize a rental or share situation.
Whatever excursions or adventures you embark on this Summer, remember to stay safe, have fun, and always be prepared. Click here to learn more about how Tampax Pearl offers you complete peace of mind for these unstoppable activities and lots more.