Summer Tabata Workouts
All About the Intervals: Tabata Workouts to Burn Fat Fast
Summer days are basically here, so if you want to burn calories in time for your beach plans, it's time to Tabata.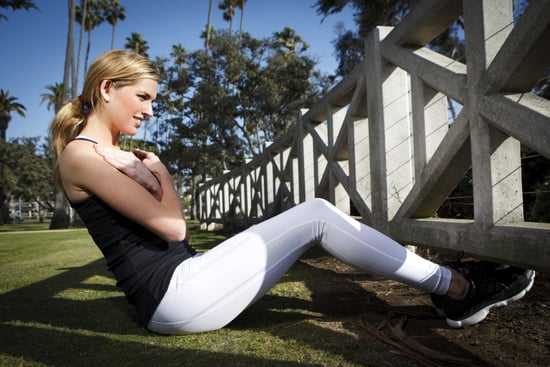 Tabata is a type of interval training — so you know it burns calories fast! The concept is simple: 20 seconds of high-intensity exercise, followed by 10 seconds of rest, repeated continuously for four minutes (after a longer rest, the four-minute rounds are repeated for up to an hour). How intense you're able to sustain your intervals depends on your fitness level, so don't be afraid to take it slowly if you're a beginner. Ready to start? Read on for four Tabata ideas to help you melt away fat!
The living room workout: You can do this 20-minute Tabata workout in any small space, whether it's your living room or your hotel room. The workout gets your heart racing with mountain climbers, squat jumps, burpees, and more.
The 500-calorie burn: Burn 500 calories with an hour-long Tabata gym workout. To do it, choose an area where you can switch from exercise to exercise quickly, and make sure you have all your equipment handy (enough to switch up your exercises every four minutes). Try this trainer-approved version: start with a medicine ball exercise (like the woodchopper or these medicine ball push-ups), move to the cable pulley machine, and finish with twisted BOSU planks, burpees holding the BOSU, or side lunges on the BOSU.
CrossFit style: Can't get enough of CrossFit-inspired workouts? Try our eight-minute Class FitSugar workout video featuring CrossFit trainer Shirley Brown. No equipment needed; work your arms and legs with simple squats and push-ups!
Cardio fun: This fun Tabata workout video from a reader incorporates high knees, spider knees, pliés, and more fun moves for an effective 24-minute workout.