Is Sunscreen Dangerous?
Sunscreen: Healthy or Hazardous?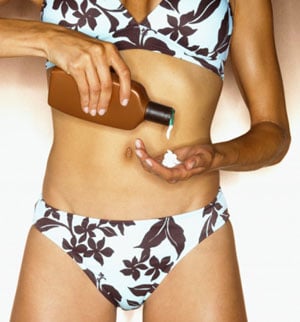 A few years ago, I went to the dermatologist to get a suspicious mole checked out on my back. The doctor agreed that it looked like it could be malignant, and I was so freaked out. I started to feel really bad that I hadn't been better about using sunscreen every time I went outside. I was grateful that the mole wasn't cancerous, but it was a huge wake-up call to me. Now I'm religious about slathering it on my whole family, all year round.
But a recent report from the Environmental Working Group says that sunscreen is actually a health hazard, and that the chemicals it contains can "accelerate the growth of skin tumors or disrupt the intricate workings of your hormonal system." They also believe that sunscreen gives us a false sense of security. We feel that sunscreen protects us from skin cancer, so we end up spending more time in the sun.
Before you ditch your bottles, the American Academy of Dermatology disagrees, saying that sunscreen is indeed beneficial in helping prevent skin cancer. They do agree that not all sunscreens are created equal, and that most people don't apply sunscreen as often as they should, and when they do, they don't use enough.
For tips on buying the safest sunscreen and how to apply it so you stay protected,
.
Look for labels that say "broad spectrum," "wide spectrum," or "UVA/UVB protection." Older bottles may only protect against UVB rays, the ones responsible for causing sunburn and skin cancer, but you need UVA protection as well, since these rays lead to tanning, wrinkles, and skin cancers.
As long as you store it in a cool, dry place with the cap on tightly, sunscreen should last up to three years. Just be sure to check the expiration date and be aware of any weird texture or smells. If the cap wasn't on tight, spring for a new bottle.
If you're worried about chemicals, look for sunscreens that don't contain oxybenzone. Here are some suggestions.
Don't skimp on the lotion. Use the amount that would fit in a shot glass to cover your entire body.
Apply sunscreen 30 minutes before heading outside, and re-apply every two hours, since sweating and swimming can wear off sunscreen, even the ones that are labeled as waterproof.
Skin care giant La Roche-Posay , makers of Anthelios sunscreen, have created the Save Our Skin campaign to remind us all to protect our skin. And today, May 27, National Sunscreen Awareness Day. I know I put my daily SPF on my face today. Did you?