Supermarket Impulse Buys Cause Weight Gain
The Grocery Shopping Habit That's Making You Fat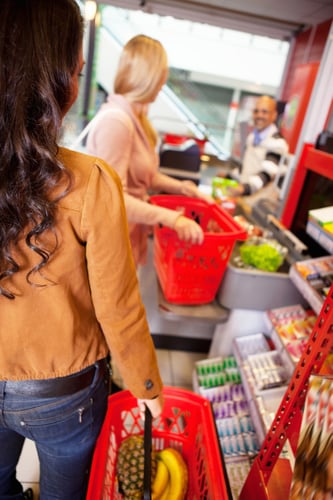 By now, you know that the grocery store can be full of tricks to get you to spend more or otherwise choose unwisely. From extra-large carts that encourage you to buy everything in sight to placing expensive packaged foods at eye level, there are many sneaky ways your grocery store is making you spend (and eat) more. A recent opinion piece in the New England Journal of Medicine talks about another well-known mind trick that groceries play on you that just may be making you fat: those impulse buys at the cash register.
Impulse buys — usually candy, sodas, chips, and other "emotion-related" foods — spur reflex-like decision-making, much faster than when you mull over healthy foods like fruits or vegetables. Studies have shown that you're more likely to give into these bad-for-you foods since these products are placed at the end of a shopping trip, conveniently after you've exhausted your healthy decision-making skills. The constant barrage of these sugar-, fat-, and salt-laden foods makes it hard to not give in, even if you're normally conscious about making healthy-eating decisions.
The authors make an interesting point: impulse-buy tricks don't just affect people who lack self control, but are in fact so sneaky and permeating that they are hard to resist. Have you fallen victim to these high-calorie impulse buys, or do you usually recognize and ignore the strategic marketing?