Supportive Websites For Eating Disorders
Supportive Websites For Help With Eating Disorders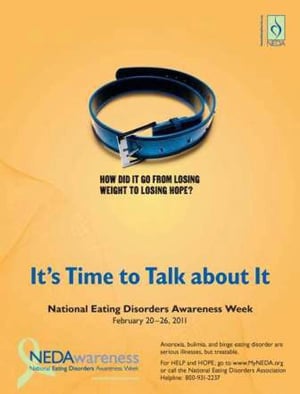 The last week of February is National Eating Disorders Awareness Week, and this year's motto is, "It's Time to Talk About It." If you or someone you know is suffering from an ED, here's a list of online resources that can offer information, support, and help. Hopefully, this will help in bringing them one step closer to talking about it.
SomethingFishy: This is an active website with lots of forums, which makes it a great way to get info while also being part of a supportive community. If someone you know has an ED, it recommends ways that you can help, which include a comprehensive list of treatment centers so you can find one near you.
National Eating Disorders Association: If you're looking for someone to talk to, you can call its toll free helpline at 800-931-2237, Monday through Friday, from 8:30 a.m. to 4:30 p.m. PST.
EatingDisordersOnline.com: This website is full of recent articles on eating disorders and gives a lot of valuable information on the different types of eating disorders and recovery. It also describes many different treatment options to help you decide which one will work best for you.
See more resources when you read more.
Eating-Disorder-Information.com: This inspirational website was created by a recovered anorexic and bulimic and provides information on eating disorders and related topics as well as interactive support.
HealthyPlace.com: This site offers a wealth of informative resources like stats, videos, and up-to-date news, as well as treatment resources and a support forum.
Eating Disorder Hope: A one-stop site that offers information, eating disorder treatment options, recovery tools, and resources to those suffering from eating disorders, their treatment providers, and loved ones.
If you have found a helpful resource that is not listed here, please share it in the comments section below.