Survey of American Eating Habits
Our Eating Habits, or How We Lie About Them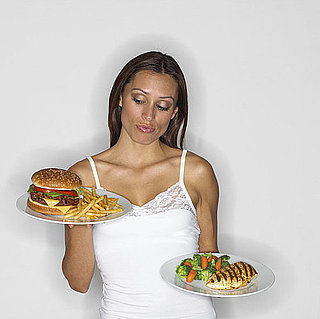 A new Harris poll has come out with data on Americans and our eating habits, and if the results are to be believed, we are a healthy nation! Over 72 percent of us eat a balanced diet and choose a healthy snack, and almost 80 percent of us eat healthier meals at home than when dining out.
The catch? The researchers aren't buying it. If Americans were actually buying and consuming healthy foods in the rate that they report, then "there would have been huge changes in sales for the various items — evidence of which, we have not seen," the researchers said. In addition, respondents who were obese or morbidly obese made the same healthy-habit claims as those who were not overweight. So, want to know more about what eating habits we may be lying about? Read on.
The study also found that:
Almost 70 percent of us read the nutritional label on an unhealthy snack before buying it.
Seventy-four percent of us drink water with our meals, instead of another beverage.
Half of us are eating more fresh fruit, 41 percent are consuming more whole grain items, and 35 percent are eating less processed foods than in previous months.
Sixty-four percent of us try to eat smaller portions.
Over half of us (57 percent) exercise regularly.
More than 70 percent of us believe that considering the amount of fats, whole grains, proteins, calories, sugar, sodium, carbs, and hydrogenated oil in our diets is important.
While the researchers may not believe what the respondents were saying, not all is lost — they noted that even though there may have been fibbing, the results are somewhat good news, since at least "many people are either doing or know they should be doing these things to stay healthy."