Sweet Potatoes Help With Weight Loss
Creative Ways to Add Sweet Potatoes to Every Meal
Sweet potatoes aren't just for Thanksgiving — eating this smooth, orange-colored flesh can help you fit into that bikini by Summer by assisting with controlling your appetite and keeping you feeling full. Here are three ways sweet potatoes can enhance your favorite meals: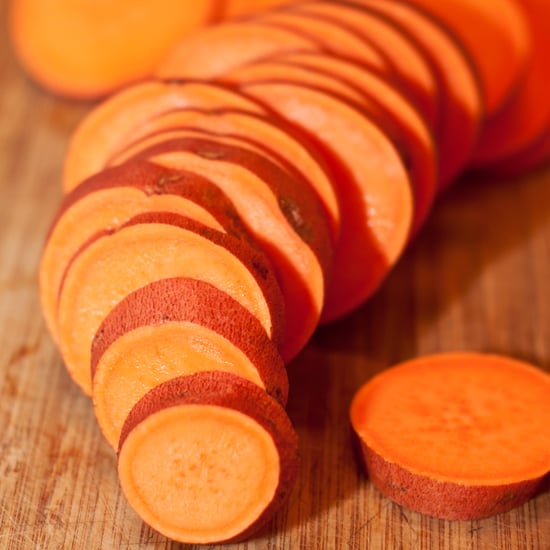 Breakfast: Sweet Substitute
Oatmeal in the morning is hearty and filling since it's already a great source of fiber. But add a little more by mixing in a half cup of mashed sweet potato, and you'll not only gain 3.3 grams of fiber and two grams of protein, but it's so sweet you won't need to add a high-calorie sweetener like maple syrup (100 calories).
Lunch or Dinner: Lower-Calorie Burger Complement
French fries are to burgers like jelly is to peanut butter. Too bad a small three-ounce serving is a whopping 267 calories. While opting for fried sweet potatoes can offer more vitamin A, they're still deep-fried in oil, which makes them equally high in calories. Skip the fries dipped in ketchup and go for a small baked sweet potato with the skin (90 calories) instead and you'll save over 200 calories.
Dessert: Butter Replacement
Cooked mashed potatoes can be used to replace butter or oil in cake, quick breads, and muffin recipes and you'll save an astounding amount of calories. One cup of sweet potato contains 180 calories while the same amount of unsalted butter is — get ready for this — 1,628 calories! It's especially delicious if the recipe calls for cinnamon, nutmeg, cloves, ginger, apples, bananas, carrots, or pumpkin. Replace half to three-quarters of the butter or oil, and if the batter looks too dry, add a bit more mashed sweet potato. You'll save on calories, but will also reduce the dessert's cholesterol and saturated fat.