Swimming Interval Workout
Cardio Workout: Swimming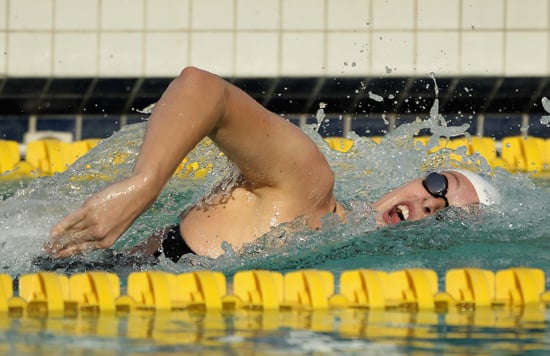 I know many runners and cyclists, who though tempted by the lure of mixing it up in a triathlon, ultimately skip these races because they're intimidated by the swim. Not only is swimming in open water scary, unlike running, it is also considered a skill sport, similar to tennis or golf because technique is so important. If you feel less than confident in the pool, taking lessons to hone your stroke is helpful; I did it and learned so much. Do know that long sessions of laps might not necessarily be the best way to train. Many tri coaches recommend sprint interval training in the pool to challenge your speed, before tiring and losing your hard earned technique.
Here's a workout I have been doing lately. It is mostly freestyle, but I like to add a little backstroke to work the opposing muscles.
Check out the workout.
Warm-up: 300 yards
100 yds freestyle — easy
50 yds breathe to the right — freestyle
50 yds breathe to the left — freestyle
50 yds pull*
50 yds kick**
Intervals: 350 yards
6 x 25 yds freestyle — sprint (rest: 30)***
2 x 100 yds freestyle — hard (rest: 45)
Recovery: 100 yards
100 yds backstroke — easy (rest: 10)
Endurance: 800 yards
2 x 400 yds freestyle — medium (rest: 60)
Cool Down: 300 yards
100 yds breaststroke — easy (:15)
100 yds backstroke — easy (:15)
100 yds freestyle — easy (:15)
Total: 1,850 yards
*Pull: Hold a buoy with your legs and use only your arms to swim
**Kick: Use a kickboard and use just your legs to power yourself across the pool
***Rest the listed amount between reps/laps
As you build up strength in the pool, you can make your sprints longer and do 6x50 yard sprints, and/or 2x200 yards at a quick pace. Whatever you do, make sure to stretch your chest, triceps, lats, back, and legs after your workout.