Swiss Ball Plank
One Move Closer to 6-Pack Abs!
The closest thing to a quick fix at the gym is the plank. In one move, this exercise helps you tighten and tone the entire body, thanks to balance and mere body weight. If the standard plank isn't challenging enough, upgrade it with a stability ball. This full-body exercise will target the abs while helping to improve upper-body strength too!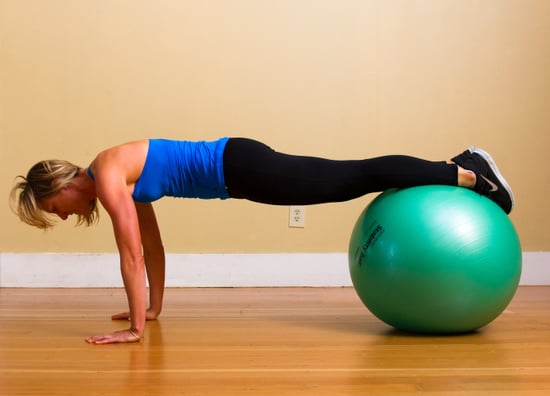 Here's how to do a plank using the Swiss ball:
Start in plank position with your hands directly under your shoulders and shins placed on the ball.
Do not allow the lower back to arch. Keep your feet, pelvis, and shoulders in one long line; make sure the core is engaged.
Hold for as long as you can or until you break form. To mix it up, alternate between planks and crunches on the ball.
Tip: Make sure the ball is sized to your body. You should be able to sit on it with a 90-degree angle at both your hips and knees.
The best part about planks are the endless variations. After you get the basics of a plank down using a Swiss ball, try adding an additional pike or targeting your lower abs with a circling plank.