Tara Stiles Says Pigeon Is Her Favorite Pose For Destressing
Tara Stiles Shows Us the Best Yoga Pose For Stress Relief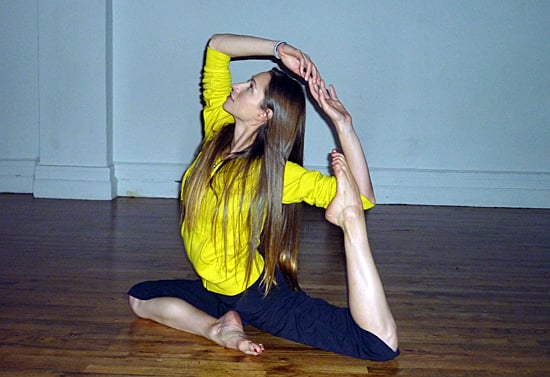 After a coast-to-coast flight, relief came in the form of Strala Yoga's class, Relax. The class is a staple at the New York-based studio, owned by well-known yogini Tara Stiles and her husband, Michael Taylor. Still feeling wound up after class from traveling and lack of sleep, I asked Tara what her go-to yoga pose is for releasing stress and finding calm. Tara didn't hesitate to say that Pigeon pose and all of its variations make the best stress relievers. Whether you run, bike, or sit at a desk all day, Tara says that Pigeon poses help calm the body and mind by releasing built-up tension in the often-tight hips and hamstrings.
Tara likes that you can stay in Pigeon for as little or as long as you like and that it only takes a small movement to increase intensity. For those times when stress is high, Tara suggests massaging the forehead while in Pigeon or lying hands gently on the floor and resting your torso on your knee. Go even deeper into the pose by progressing into Pigeon Crescent (seen here), which will open up the chest and spine. Tara adds that Pigeon can help with sleep issues like insomnia, making it a good pose to wind down with in the evening. Most importantly, to truly reduce tension, connect with your breath: "Every inhale makes more room in your body, self, and mind," Tara says. "Your pose should feel easy with deep breaths helping to guide you from the inside out — no struggling; no clenching; slow, slow, slow."
Which yoga poses help you ease stress?