Tara Stiles This Is Yoga DVD Review
DVD Review: Tara Stiles This Is Yoga
For any yoga student who is beyond a beginner practice, a standard DVD can leave a lot to be desired. Typically, there's tons of instruction, very basic postures, and long breaks in the sequence. While all four of the DVDs in the Tara Stiles This Is Yoga DVD Set ($20) offer wonderful instruction for students of all levels, I was particularly taken with the first DVD of the set, Daily Yoga For Everyone. Both of the flowing practices on this DVD challenged my body, provided easy-to-follow instruction, and exceeded my expectations.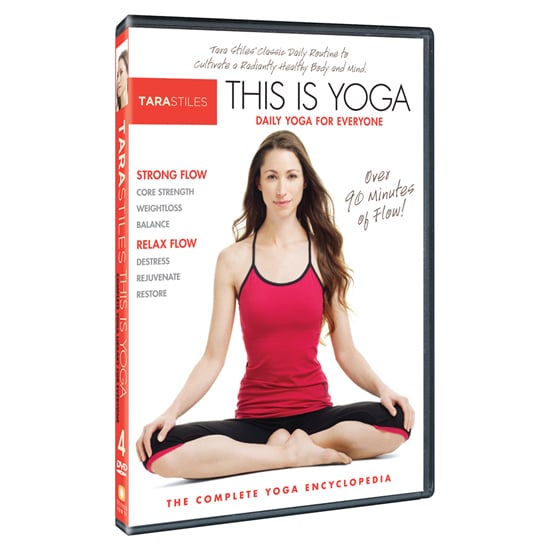 The first flow on this DVD was an hour-long, thoughtful sequence that brought heat to my body and worked my core. Plenty of options were available for beginners throughout this Strong Flow sequence, but I also appreciated all the variations that allowed my body to move deeper into each posture. I was particularly taken with a Three-Legged Dog variation where I was instructed to lower my forearm to my mat and shift my hips over my shoulder. With this creative variation offered so early on in the sequence, I knew that this DVD was the real deal. Keep reading to hear my thoughts on the second sequence on the DVD: Relax Flow.
When I turned on Relax Flow, I thought I was heading into a low-key, restorative practice — this was not the case. The half-hour, active sequence didn't necessarily give my body a break, but it definitely left my mind feeling focused and relaxed. It would be an awesome way to bring clarity and intention into a tough workday.
If hippie-dippie, far-out instructors make you weary, Tara Stiles has what you're looking for. You can immediately tell that she's a true yoga expert, but I appreciated her effortless, matter-of-fact tone that was both calming and accessible. For anyone with a solid home practice looking for something new, I wholeheartedly suggest that you check out this DVD as soon as possible.