Teresa Giudice's Healthy Italian Cookbook, "The Skinny Italian"
Move Over Bethenny, There's a New "Skinny" Housewife in Town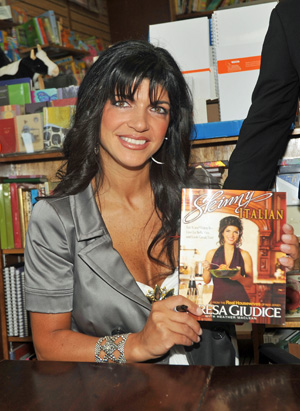 Bethenny Frankel isn't the only housewife with a penchant for healthy entertaining. Real Housewives of New Jersey star Teresa Giudice spent the weekend signing copies of her book, Skinny Italian ($12), at a bookstore in, of all places, New Jersey. Teresa, who's better known for flipping tables at dinner than serving it, shares all the classics — pesto and puttanesca sauces, veal piccata, and fettucine alfredo — but with a healthy twist.
I love Italian-American food but it's often carb-heavy with lots of cheese, butter, and beef. Teresa's recipes cut down on the fat but not flavor — there's less cheese, leaner meats, and a reduction of fats. Instead, flavors are boosted with herbs, garlic, olive oil, and peppers. Besides the recipes, Teresa offers lessons on making fresh pizza, canning your own tomatoes, and general cooking tips. Her mantra? "Eat spaghetti and still fit into your skinny jeans."
So, which "skinny" housewife's team are you on — Team Bethenny or Team Teresa?