Terms You Hear in Barre Class
The Language of Barre: 5 Terms Decoded
You don't need to be fluent in French or even have taken ballet before trying a barre class. This style of exercise may be modeled after ballet, but it is, after all, a workout. The movements are thoroughly instructed, so the only thing that may throw you off are the words themselves. Here is a guide to the most widely used barre terms that you'll hear in class.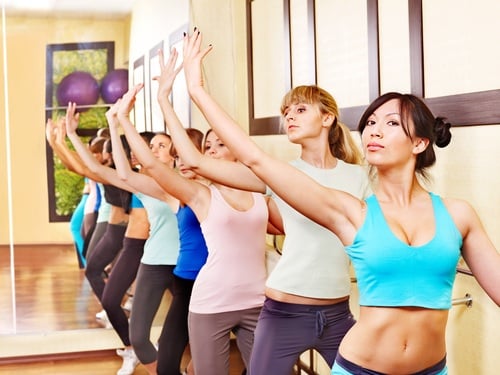 First position: This is part of the setup for many barre exercises. In first position, you are standing on the floor with your heels touching and your toes apart. When you gaze down, your feet should look like a small "v" shape.
Plié: This is a pretty French term that means to bend, or fold. It is only used when referencing a bend in your knees, which you do often in barre. You can take a plié in almost any standing position. Your instructor might alternate the words bend and plié intermittently.
Relevé: The actual meaning of this French term is lifted, or raised. The word is used when instructed to lift your heels off of the ground. This is usually only instructed when your heels are together, either side by side or in front of one another, so that you have plenty of ankle support.
Second position: Stand with your legs separated from each other, with your feet about two feet apart, and your toes pointing outward on a diagonal. From here you will most likely be instructed to take a bend in your knees. Once you plié, make sure your heels are under your knees and your shins are parallel to prevent injury. Every barre goer loves to hear the term second position because it is often used for a series of thigh exercises. The position might feel like a break at first, but you'll begin to feel the burn.
Tuck: A key concept in barre, the tuck is part of the secret to sculpted thighs and seat. You may even hear this instruction during your ab exercises. It simply means to pull your hips forward while drawing your abs back. If you look at yourself in a mirror, you can see the tuck happening from a side view. When you tuck, the arch in your lower back will disappear, elongating your tailbone. This can make any exercise feel harder and therefore show more results, so embrace the tuck.