Thanksgiving Meal Tips For the Lactose Intolerant
T-Day Tips For the Lactose Intolerant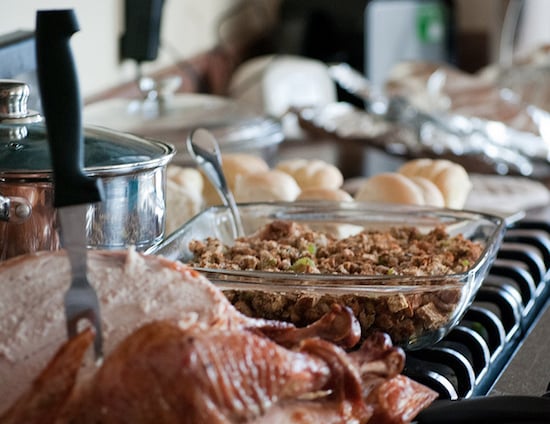 Turkey, mashed potatoes, dressing, gravy, pumpkin pie, oh my! Thanksgiving is not only a time to give thanks and surround yourself with loved ones, but it's also the annual holiday most known for its savory signature dishes. For some, this means gorging on yams, biscuits, and casseroles, but for others the day means worrying about food sensitivities and allergies that can be triggered by basic ingredients in a number of dishes. If you're lactose intolerant, Thanksgiving dinner can be overwhelming since so many delicious food items contain milk and dairy products. Here are some simple tips for surviving Thanksgiving and still indulging like everyone else if you are lactose intolerant.
Main Dishes: Turkey, cranberry sauce, bread, salad, and vegetables (use olive oil on vegetables, like steamed green beans, rather than butter) are all safe to eat if you are lactose intolerant, but where it gets tricky is dishes that require milk or butter. For mashed potatoes, casseroles, and even dressing, try using unsweetened nondairy alternatives like Silk Soymilk, Almond Breeze, or Rice Dream.
Side Dishes: If your side dishes require butter or cheese, some vegan nondairy butters make great options. If you have access to a health food store, pick up some Earth Balance Buttery Sticks. And you can even use vegetable oil, canola oil, or olive oil as a butter or margarine replacement. Just make sure to use about a fourth less oil than the amount of butter called for in your recipe. For dishes with cheese as a main ingredient, try finding a good vegan cheese substitute. Make sure you read the label carefully, as some soy cheeses can contain dairy. And if you're feeling really ambitious you could make your own vegan cheese!
Desserts: Pumpkin pie can be safe to eat for those who are lactose intolerant if the pie is made with a lactose-free milk like Lactaid. If the recipe calls for evaporated milk, Silk Soymilk half and half makes a great substitute. And for the whipped cream, coconut cream can be used instead of real cream. Short on time? You'd be surprised at how well stocked your local health food stores are with vegan pies this holiday season. And if you can't tolerate any dairy products whatsoever and will have little control over what is being served this Thanksgiving, you can try taking Lactaid brand caplets, which will help break down the lactose (milk sugar) enzyme so your body can digest it properly.
Source: Flickr User crd