Thigh Exercises From Pure Barre
Oblique and Thigh Camp: Tone Both in This Wide Leg Stance
Holding this wide ballerina stance, aka second position, will tone trouble areas around the thighs and get you up and off the mat. Bonus: you can also skip some of those bicycle crunches, because the obliques get stronger from doing this exercise. Try this Pure Barre move at home, and since no equipment is needed, there's no excuse to skip the exercise!
The Setup

Begin with your legs wider than hip-width apart, and turn your toes slightly out. Bend your knees, coming into a wide squat position and keeping your shoulders directly over your hips.
Place your hands on your hips, and pulse up and down in a one-inch range in this position for 15-20 seconds. (If you feel unsteady, then place a chair in front of you to use for balance.)
The Reach-Over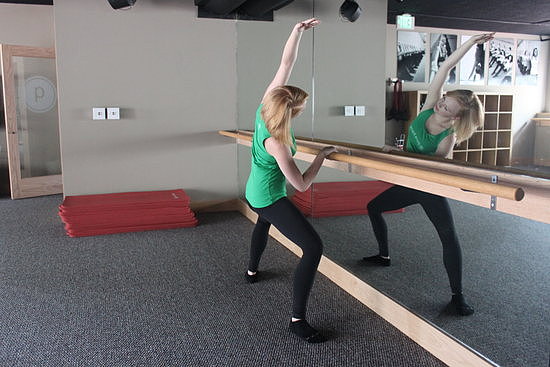 Keeping your knees bent, reach your left arm up and bend sideways to the right.
Maintain the side bend as you pulse up and down, in a one-inch range; the further you reach, the more your obliques will work. Do this 15-20 times while keeping your hips even. Repeat on the opposite side.
Keep reading for two variations after the break.
Tippy Toes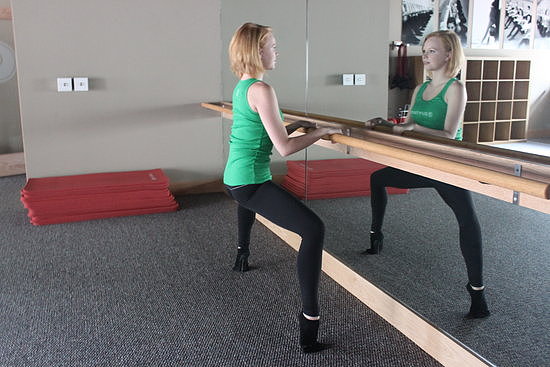 After completing the reach-over on both sides, return to the starting position.
Raise your heels so you're standing on your tip toes. Keeping your knees bent, and tuck your hips under as you pull your abs back. Repeat this tucking motion 15-20 times.
Bonus Move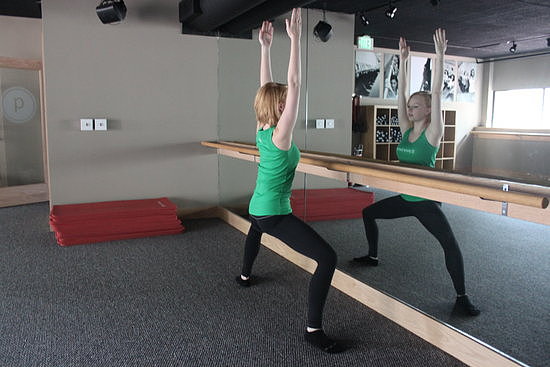 Lower your heels to the floor.
Reach both arms up toward the sky, and finish with 10-15 tiny up-down pulses.
Finish with a chair stretch by placing one leg across the opposite knee and sinking back into a seated position. If you need support for this stretch, then hold onto a chair or place your hands on your hips.
Model: Pure Barre instructor Juliann Witt at Pure Barre San Francisco, CA