Thigh Stretches
Jump Back Faster With 3 Stretches For the Inner Thighs
Make sure to always stretch your inner thighs after you tone and tighten them to get even more out of your hard work. From lying on your back to posing in an active yoga stance, these stretches will have you bouncing back to the next activity in no time.
Single Leg Extension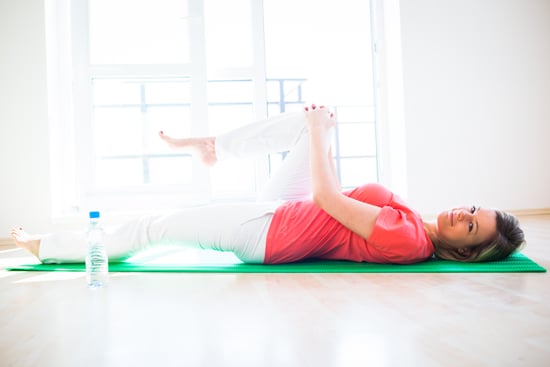 Lie down for a rewarding stretch you can do after you're done exerting yourself.
Hug one of your knees in toward your chest; from here you can choose whether or not to extend that leg for a deeper stretch. While extended, hold onto your leg from behind your calf, or use a resistance band if you can't reach.
From whichever point you decide to stretch from, bent or extended, cross the active leg across your chest and hold it here for five-10 breaths for an IT band stretch.
Now open your leg to the opposite side and just allow gravity to let your leg relax, feeling the stretch in your inner thighs. Then, switch sides.
See two more stretches after the break!
Runner's Lunge


Runner's lunge, or Warrior as it can be referred to in yoga, is an active stretch that can benefit all types of activities.
Come into a lunge position with the right foot forward and the left leg extended behind you, toes relaxed. Make sure there's enough distance between your feet so your front knee is at a 90-degree angle. Your hands can frame your front foot for support by placing them on either side of the floor.
Once you feel centered with hips squared, place hands on your front quad above your knee or extend your arms overhead.
Side Leg Straddle


In between active and resting stretches is a mix between the side leg stretch and a wide leg straddle stretch.
Sitting in a half Butterfly Pose with one knee bent, extend the opposite leg out at a diagonal. Reach your outside arm overhead and toward your toes, opening your chest to the sky for a full rotation. You can choose to keep the foot relaxed or flex your toes up to feel more of the stretch.
Rotate back down to face your chest to the extended shin and flatten your back as you stretch forward.
From here you can extend your bent knee and walk your chest to the middle for a straddle stretch. Reach your arms just as far as you feel comfortable before switching to the other side.