Things to Consider When Buying a Yoga Mat
Questions to Ask Yourself Before Buying a Yoga Mat
Buying a yoga mat is like buying a new pair of running sneakers. It takes careful consideration and research to find the right fit. Since there are hundreds to confuse you choose from, narrow down your search by asking these important questions.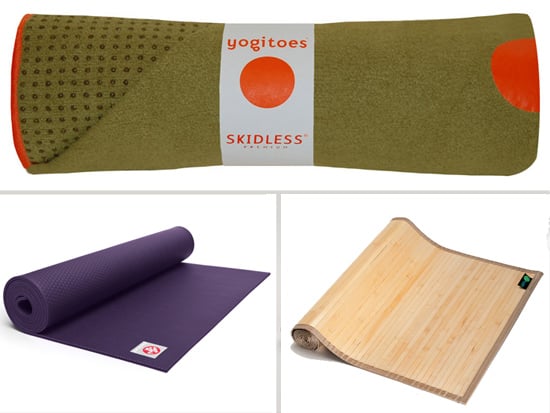 How Much Do I Want to Spend?
Your budget is a huge factor in the mat you end up with. Do you have the dough to lay down for the priciest one on the market or are you happy buying a cheaper mat? The upside of buying a more expensive mat, like the Manduka PRO Black Magic ($104), is durability, which will actually save you money over time.
How Thick Do I Want It?
If you're new to the mat-buying scene, you might not realize that mats come in different thicknesses. A quarter-inch is the standard mat thickness, probably like the one you've borrowed from your studio. Think about how your body feels on this mat in certain poses where your bones are pressing into the floor. If you've felt discomfort, splurge on a thicker mat, but make sure it's also dense. A thick squishy mat makes balancing postures more difficult.
Keep reading for more things to consider when purchasing a new yoga mat.
Do I Sweat a Lot?
If you tend to drip like a faucet as soon as you hit your first Down Dog, a regular yoga mat won't do the trick. You'll need to purchase a cotton rug ($40) or skidless towel ($64) to place on top of your mat to absorb your sweat, which means you could stand to spend less on the actual mat.
Will I Have to Carry It Far Distances?
Mats also range in weight, so if you know you'll be lugging your mat for a 20-minute walk or traveling with it, you might not want to buy a seven-pounder. Look for lighter options or ones that fold easily if you plan on stowing it in your suitcase.
Is My Health and Environment Important to Me?
You'll see labels such as phthalate-free or PVC-free, and this is what you want since exposure to these materials has been tied to health concerns such as affected hormone levels or birth defects. They're also not great for the environment because as the plastics break down, they get released into the air. You can avoid plastics altogether by choosing ones made with all-natural biodegradable materials such as the Manduka eKO Mat made with natural rubber ($76), the jute Hugger Mugger mat ($37), or the Eco Mat ($85), which is a combination of rubber and jute. They also make yoga mats out of bamboo ($74), perfect for indoor or outdoor practice.