Three All-Women Triathlon Series
Races For Women: Triathlon Series
Nothing makes my inner cougar happier than passing younger men while competing in triathlons (yes, they write your age on your calf for the whole world to see), but I like racing with just the ladies, too. The all-women races I've been in had a calm, somewhat sisterly vibe to them — and better cut t-shirts, too. If you're looking to try a tri, and want to stick with your own, here are three national triathlon series for women only that just might be your scene.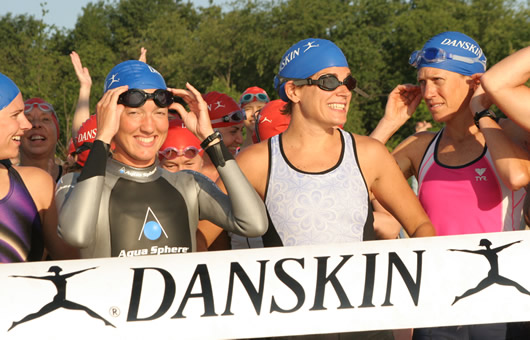 Danskin Triathlon: This is the "largest and longest running women's-only triathlon series" in the US. The sprint tris are held all over the country from Texas to Washington, from Wisconsin to Massachusetts. All races are approximately a half-mile swim, 12-mile bike, and 3.1-mile run. The next race in this series will be held in Austin, TX, on June 6. Entrance fees for these races are around $100.
Iron Girl: This is a women-only national series comprised of 12 events. Race distances vary according to local geography and many races end with a much-deserved breakfast. The next race in this is outside of Atlanta, GA, on June 27. The entrance fee for this race series is $95.
TrekWomen Triathlon Series: Known for the women-specific designed bikes, Trek has created an eight race tri series for you to test your skills. All courses are around half-mile swim, 12-mile bike, and three-mile run. The first race in the series is held just outside San Francisco on June 27. The entrance fee for all but one race in this series is $85.
Have you signed up for a race yet?