Three Bean and Feta Salad Recipe
A Reader Recipe: Three Bean and Feta Salad
Have a backyard barbecue coming up? FitSugar reader TinaFFF has a Mexican-inspired salad recipe, which she posted in our Healthy Recipe group.
Looking for a way to lighten things up and brighten up the flavors at my get togethers, I re-created a three bean salad I once fell in love with at a party. Filled with protein and bursting with flavor, this three bean and feta salad makes a wonderful side dish to add to any group gathering. Or, have it as a meal at home — pump it up with added vegetables, pasta, quinoa, or protein.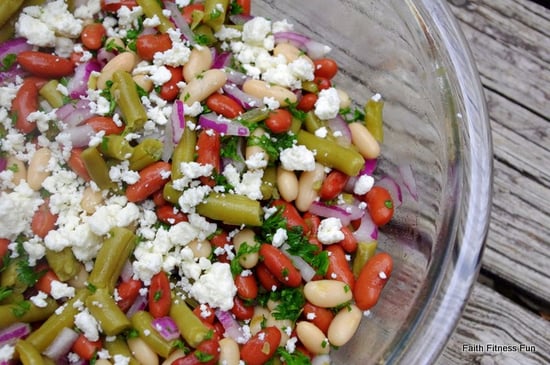 Learn how to make this recipe after the break!
Sugar-Free Three Bean and Feta Salad
Servings: Makes 6 cups, 12 1/2 cup servings
Prep Time: 5 minutes
Chill Time: 2 hours or longer
Ingredients:
1 15 oz can No-salt canned, cut green beans
1 15 oz can kidney beans
1 15 oz can white cannellini beans
1 small red onion
1 small bunch fresh flat leaf parsley, yields about 1/2 cup finely chopped
1/3 cup apple cider vinegar
1/4 cup olive oil
5-6 drops liquid stevia (or sweetener to taste)
1/2 cup crumbled feta cheese
Step-by-step instructions:
Drain and rinse all three cans of beans in a colander; add to a large bowl. Finely chop the red onion and parsley; add both to the beans. In a separate small bowl, whisk together the apple cider vinegar, olive oil, and liquid stevia. Pour over the bean and onion mixture; toss to coat. Cover the bowl and chill in the refrigerator for at least two hours. Toss the mixture again and top with crumbled feta before serving.
Recipe from Faith Fitness Fun
Share your own recipe in our Healthy Recipe group, and we may feature it on the homepage!