Three Natural and Tasty Sugar Free Cereals
Living La Vida Low Sugar: Cereal
Sugar, in some form or another, seems to be added to so many foods these days, from tomato sauce to canned veggies, with breakfast cereals being some of the worst offenders. Here are my top three faves that contain hardly any of the sweet stuff per serving.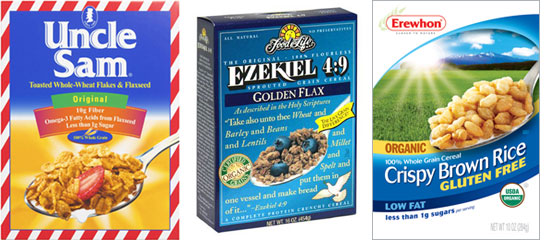 Uncle Sam: A blend of toasted whole grain wheat flakes and flaxseed, this hearty breakfast cereal is filling and high in fiber — 10 grams per 3/4 cup serving. It does contain a bit of barley malt, but one serving of Uncle Sam contains less than one gram of sugar. I have come to love the taste of this cereal and appreciate the dose of omega-3s the flax seeds offer.
Ezekiel 4:9 Flax Cereal: Made of a blend of grains and sprouted legumes, this cereal is filling and flavorful. Best heated up with warm milk, soy milk, or juice, a half-cup serving of the

Ezekiel

cereal contains zero grams of sugar. This breakfast cereal does contain a bit of malted barley.
Crispy Brown Rice: Erewhorn makes this brown rice version of the ever-popular Rice Krispies that has less than one gram of sugar per sugar even though organic brown rice syrup makes the ingredient list. This gluten-free cereal is also free of fiber, but my kids love it. I appreciate the 110 calories per one cup serving.