Three Thieves Bandit Sangria: Lower Calorie Alternative to Summer Cocktails
My Summer Cocktail Swap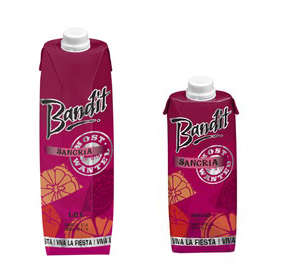 Summer and cocktails are synonymous to me. Having a margarita or salty dog after a day of hiking has become a celebratory ritual, and nothing hits the spot like a cold beer after a long run or bike ride. The thing is, classic Summer drinks like mojitos and margaritas add up caloriewise, and often contain lots of sugar because of all the fruit juice and/or simple syrup. My solution? Bandit Sangria ($8).
Bandit wine is a line of boxed wines, but it's not like Franzia — it's better, way better. Since it's easier to carry around than a wine bottle, it's a good choice for outdoor activities like camping and picnics. And on the eco-tip, it's good for the environment: less energy and materials go into making and transporting the Bandit wine boxes. Aside from that it's a bit novel — like a juice box, except for adults.
I first came across Bandit Sangria when I was shopping for a picnic. I LOVE sangria, love it. But sangria has a lot of sugar — either added, or naturally from the fruit — or too much alcohol from the addition of brandy. Bandit sangria has neither. The ingredients are pretty simple: a blend of "premium California wine and natural cranberry and grapefruit flavors." And while it wasn't the best sangria I've ever had, it was a good alternative to a sugary cocktail, and made packing for my picnic that much easier.