Tie Your Running Shoes Properly
Running Tip: Tie Your Shoes Properly!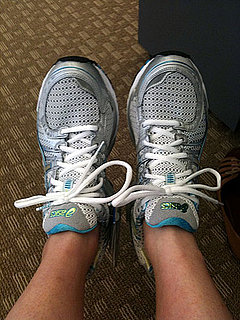 You wouldn't buy a pair of running shoes that didn't fit quite right — whether slightly too snug or just a little too loose, ill-fitting shoes can cause painful blisters. Thing is, so can running in shoes that fit, but aren't tied properly. Tying your shoes in what Runners World refers to as a "granny knot" can actually change the fit of the shoe, leaving your feet open to blisters.
There's a great how-to video on the Runners World site, but essentially the way you wrap your shoelace in the last phase of shoe-tying is the most important. Crazy to think about, right? So, for example, I start tying by crossing the right lace over the left. I then make a loop with the right side first. So it follows that in the next step of shoe-tying, I need to make sure and wrap the lace around the front of the loop. Wrapping around the back would make the laces off-balance, causing them to twist and potentially loosen. Depending how you start your knot dictates which direction you'll need to wrap, so take a look at this helpful chart to determine your style.
I promise, you'll never think so much about tying your shoes ever again!