Time Out Mac App Break Reminder
Time Out For Mac Reminds You to Take a Break
Many of us spend all day sitting at an office desk, and we know how unhealthy that can potentially be. If you find yourself forgetting to do those important desk exercises or even getting out of your office chair altogether, you'll want to check out the Time Out download from the Mac App Store.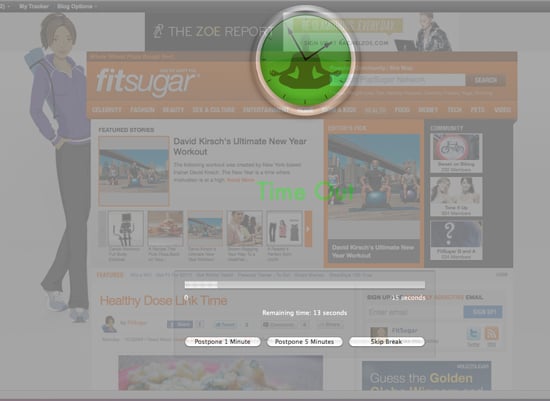 Time Out is a free app for your Mac computer that fades out your screen after a specified interval so you can stretch, rest your eyes, or grab a glass of water. Time Out offers two types of breaks: a micro break to remind you to quickly combat tension and a normal break so you can relax and get moving. The time limits come preset at every 10 minutes for a 15-second micro break and every 50 minutes for a normal 10-minute break. If you find these are too intrusive, too frequent, or not long enough, changing preferences, from opacity and color of the screen lockout to length and frequency of breaks, is simple to do.
Find out what I thought about the app and if it helped me during my daily office grind after the break.
Once I downloaded Time Out and set up my own preferences, I kept forgetting that the program was running, so I appreciated the reminder that I was due for some stretching or a walk around the office. The slow fade out and ability to skip or postpone a break were both great features for when I was deep into writing an email or about to finish a project; also, the transparency of the screen meant even during the micro breaks I was able to continue typing or reading my screen while still letting me know that it was time to stop.
Taking breaks from your computer screen is good for stress levels and eye health among many other things, so if you find yourself chained to your desk during the workweek, check out the Time Out app to help remind you to take those important breaks.