Tina Fey Quotes on Juice Fasts, Dieting, and Body Image
Tina Fey Shares Memories of Her Skinny and Chubby Years
Happy Birthday to our fave funny lady! Tina Fey turns 42 today. We've been fans of the actress, writer, and comedienne since her early days on Saturday Night Live. Like many of us, Tina's weight has fluctuated over the course of her career, and to mark her birthday, we're sharing some of her funny quotes from juice cleanses to body image.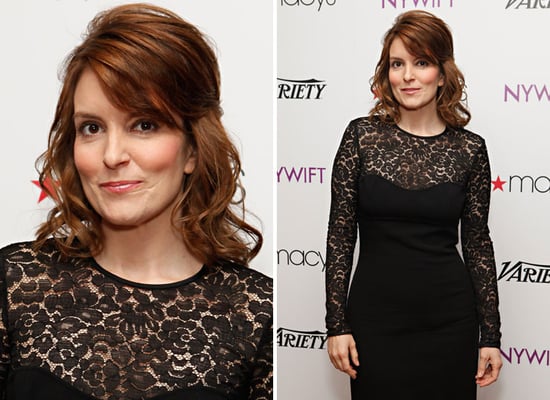 Before making the leap from writers room to on-camera talent, Tina followed the pragmatic Weight Watchers program to drop pounds. But that doesn't mean she hasn't dabbled in more extreme techniques to lose weight. She explained to Jimmy Fallon, "I don't really believe in those [cleanses] — your body's not like a purse. You're not supposed to turn it inside out and shake it. But I was like, 'Oh, I don't care. I just need to jump-start this.' So I tried it." After an allergic reaction caused her lips to swell, she abandoned a juice cleanse. Go figure.
These days, Tina works out with trainer when she can fit a session into her hectic schedule, and if she can't, she takes a walk. She's even become a fan of yoga and the superfood kale.
Before settling into her healthy weight, Tina experienced both sides of the weight equation and shared her memories of these phases in her book, Bossypants. In two short, consecutive chapters, she explains the positive and negatives of the different times. Keep reading for a brief excerpt after the break.
From "Remembrances of Being Very Skinny":
I was cold all the time.
Sometimes I had to sleep with a pillow between my legs because my bony knees clanking together kept me awake.
I ran three miles a day on a treadmill six days a week.
I didn't have a kid yet.
"We should leave people alone about their weight. Being skinny for a while (provided you actually eat food and don't take pills or smoke to get there) is a perfectly fine pastime."
From "Remembrances of Being a Little Fat":
My boobs were bigger.
I once left a restaurant in the middle of dessert to get to Krispy Kreme before it closed.
I wore an oversized men's overall that I loved.
I could not run a mile.
"We should leave people alone about their weight. Being chubby for a while (provided you don't give yourself diabetes) is a natural phase of life and nothing to be ashamed of."
We like her attitude. Welcome to 42, Tina.