Tips For Barre Exercise Classes
10 Tips For Taking Your First Barre Class
Barre workouts have become one of the most popular and addictive exercise classes in the country — and for good reason. Great for all levels, barre classes will challenge you from beginning to end and help you achieve the body of a dancer without actually having to be one yourself. Before you do your first plié, here are 10 helpful tips to get you started.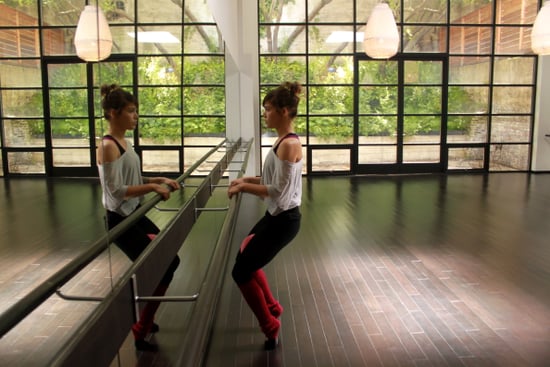 Wear the right clothes: Don't pay attention to what models are wearing on the studio's website, or think you need to show up looking like a ballerina. A good rule of thumb for any barre class is to wear workout bottoms that fall below the knee. You're going to be on the floor a lot, so shorts are not the best bet for the new positions you will be trying.
Socks matter: To the average pedestrian, there are two types of socks: thin socks to wear with business attire, or thicker pairs for boots. For barre, you'll want socks that absorb sweat and have good traction. Many fitness stores are now selling socks with grips on the bottom, which are ideal for barre. Your studio might sell them on-site as well.
Fuel yourself: Eating is the most simple and forgotten rule, especially if you're taking an early morning class. When you exert as much energy as you do during barre, you need something substantial in your stomach. Aim for protein like string cheese, eggs, or nuts at least an hour before class.
Show up early: You need to sign some paperwork before you get started. Try not to skimp on information when filling these forms out — most studios will give you special deals during the month of your birthday.
Don't be shy: Place your mat toward the front so your teacher can easily correct you. Many moves in a barre class feel strange at first, so if you are close to your instructor, she can help you get the most out of your first class.
Get the lowdown: While you're waiting for class to start, ask other students who their favorite teachers are and why. It takes a while to get into the groove at a new studio and figure out which instructor best suits your workout style. You can cut that time in half by getting recommendations.
Shaking is good: In a barre class, your goal is to start shaking almost immediately after starting an exercise. Many students get nervous and think they are doing something wrong when their muscles start to tremble. This is actually the goal, and you might even hear your instructor say, "Nice shaking." When your body shakes, you are exhausting that muscle and forcing it to tone, so embrace the shake!
Take a bath afterward: The difficulty of a barre class can be deceptive. You burn while you're taking it, but usually feel light and airy by the end. This does not mean that you won't be sore the next day. To decrease this soreness, you need to either stretch at home, take a bath, or try both. Releasing your muscles will not only ease your body for the next day, it will help lengthen your flexibility as well.
Keep going: The day after a barre class is the most sore you will ever feel, so it's easy to talk yourself out of going. This is surprisingly the most important day to go back. If you work out on the second day, you will push through your soreness and kick-start your fitness goals. Without taking another class soon after your introduction to barre, it can take up to two weeks to get your strength up to par.
Stick with it — change will come: The proof is in the pudding. Clients who take four to five classes a week lose inches and display more visibly toned physiques. Think about it: a ballet barre-inspired workout mimics the exercises ballerinas do in rehearsal. It's no wonder they look so good.