Tips For Buying First Yoga Mat
6 Things I Wish I Knew Before Buying My First Yoga Mat
When I started practicing yoga over 10 years ago, I couldn't wait to own my first yoga mat. I impulsively bought a pretty purple one, based on color alone. Not the best move, as it began disintegrating after a few weeks. What a waste of $35. Like any fitness gear, it pays to do a little research and to know some tips from well-seasoned yogis. Here are things I wish I knew before buying my first yoga mat.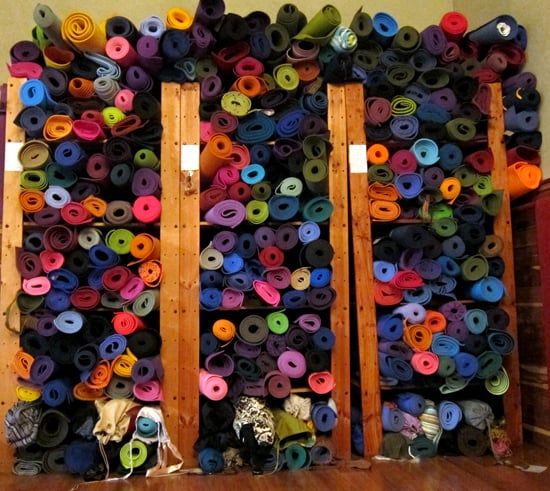 Not All Mats Are Created Equal
Just as there are many types of yoga, there are even more varieties of yoga mats. Some are lightweight for traveling, some are eco-friendly, and some are designed for classes where you don't sweat much. Choose a mat based on the type of yoga you're doing and the amount you perspire. Avoid mats made for other types of exercise like physical therapy or Pilates, as they can be too squishy or slippery.
If You Want It to Last, Spend the Dough
There are plenty of mats that costs $20 or less, but you get what you pay for in the yoga mat world. Typically found at huge stores like Target or Walmart, less-expensive mats not only wear down after a few months, but they're typically made with chemically-smelling plastics like PVC, which aren't good for the Earth or your body. Pricier mats like the Manduka Black Mat cost a small fortune over $90, but you're paying for a durable mat made to last a lifetime (or two). In the long run, you actually save money.
Keep reading for more tips on buying your first yoga mat.
Go For a Name Brand
Name-dropping is not my scene, but unfortunately it matters when when it comes to yoga mats. I mentioned Manduka above but Prana, Gaiam, JadeYoga, and Hugger Mugger are also well-known brands you can trust.
Go Thick
Buy a thin mat and you might as well be Down-Dogging on the hardwood floor. You want the material to be thick and dense enough so your bones are cushioned in poses like Pigeon or headstand, but not so foamy that you sink or feel unstable.
Think About the Planet
Thumbs up for mats created from natural materials or ones that biodegrade; just know some have drawbacks. Mats made of natural rubber smell like rubber (for at least a few weeks), cotton rugs aren't slip-resistant, and jute or cork mats wear down quickly and will need replacement if you practice regularly.
Try Before You Buy
It's best to go on a recommendation from a friend or yoga teacher, and if they're telling you what they love, it probably means they own it. "Borrow" the mat for a few minutes and try a few standing, balancing, seated, and inverted poses. You might find that the flower design you initially loved is really distracting, or that you're too tall for a regular-sized mat. You'll be happy you know this before dropping $70 or more.
Source: Flickr User snickclunk