Tips on Buying Running Shoes
How to Buy the Right Running Shoe
Buying the right running shoe takes time. Finding a shoe that works with your running style and foot usually means an in-store visit to a running specialty store for expert advice.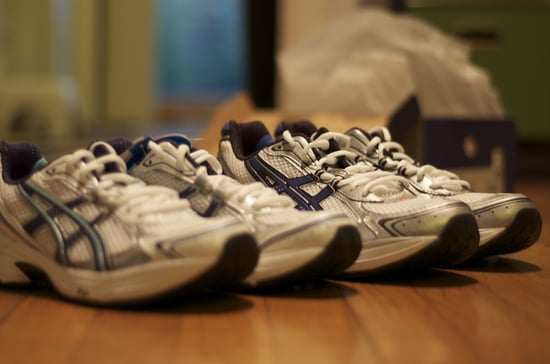 A good running shoe store will look at your foot type, normal running distance, past or current injuries, pronation, foot length, and instep height, along with other parameters, says Lori Shannon, owner of women's running shoe store See Jane Run. And while there are several things you can ignore when shopping for a running shoe, there are still many things that matter for keeping your runs safe and injury-free. Nothing beats a personal consultation for finding the perfect fit, but we asked Lori for guidance anyone can use when looking for a running shoe. Here are more of her tips to consider.
Pay attention to fit: Every shoe (and foot) is different, but there are a few specifics that you should look for before the cashier rings up your pair. "The overall feel and fit is often overlooked but is extremely important. Some companies will insist that you are in a certain category — [like] stability, motion control, or cushioning — but those shoes may not feel good to you," Lori says. "This is an art, not a science. If you don't like how they feel, then they are wrong for you."
One way to help ensure a good fit? Pick the right time to visit a shoe store. "If you run in the morning, get fitted in the morning," Lori says. And try to go to the store after your normal daily run. "Your feet change size during the day and how long your run, [so] if you do long runs, you should try on shoes after a long run. This will give you a better fit and help you keep your toenails."
There's no need to break them in: It's a myth — you don't need to break in your running shoes. In fact, running shoes should feel comfortable the moment you run in them, says Lori. "You should feel great on your first run," she says, although "if you are trying to get away from stability shoes and more into barefoot or minimal shoes, you will need to move slowly to build up your strength for these types of shoes. But the fit and feel should be great from day one."
Just because you don't have to break in your shoes doesn't mean you should treat yourself to a brand new pair before a big race, however. Make sure you're comfortable with your race-day shoes (as well as everything else you're wearing) so you know what to expect during long runs.
Don't rely solely on recommendations: When it comes down to it, only you know how the shoes feel. Don't go by a shoe's brand or buy based on a friend's rave review. "Every foot is different, and you need to find what works for you. It may not be what works for your friend," Lori says. And pay close attention to how the shoes make your feet feel, without worrying about how you think the shoes are supposed to feel. "Be your own advocate. Don't let someone tell you what feels good or works," says Lori. "Start listening to your body and paying attention to what hurts when you run. You should be able to run pain-free, and shoes can help with that." If you are experiencing aches and pains, such as tenderness in your Achilles tendon or pain in your knee or back, after running in your new shoes, it may be an indicator you are wearing the wrong shoes, Lori says.
Know when to replace: There's not a set number of miles or days when it comes to replacing your shoes, but "the first time you have a run and feel a little beat up, it may be time for a new pair of shoes," Lori says. To help elongate their lifespan, alternate your running shoes every day, only use them for running, and try not to get them wet (instead, Lori recommends you use a pair of old shoes when running in the rain). Read more tips for increasing the life of your running shoes here.
Flickr User joey.parsons