Tips For Commuting by Bike From Clif Bar President Kevin Cleary
President of Clif Bar Shares Bike Commuting Tips
Being that the idea for Clif Bar began on a bike, it seems only fitting that I would meet up with the current president of the company, Kevin Cleary, on the last leg of a bike commute to the office. Legend has it that the lack of a palatable energy bar during an endurance bike ride back in the early '90s inspired the company's founder, a baker by trade, to tinker in the kitchen to create the Clif Bar. Looks like his experiments paid off, no?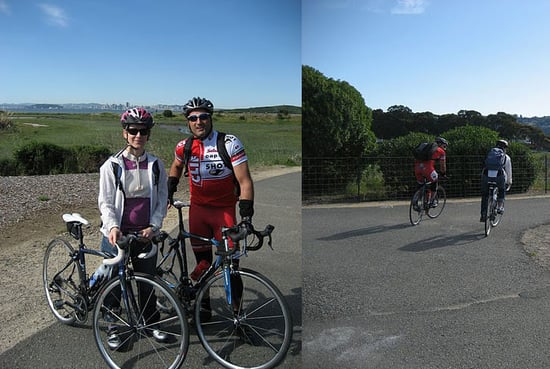 As the current president and COO of the company, Cleary continues the company's commitment to biking and commutes on two wheels 44-plus miles round trip about twice a week. Clif is one fit company! Not only are employees encouraged to exercise during the workday in the on-site gym, which offers 33 fitness classes a week from Zumba to spinning, they are also encouraged to green their commutes by biking, carpooling, walking, and taking mass transit.
Kevin has been bike-commuting consistently for four years. In honor of the upcoming Bike to Work Day, I asked him to share his top tips on how to start cycling to work. Here they are:
Map it! Go to Google maps and map out your route using the bike feature, which highlights bike paths too. Research the safest route possible, which might not be the quickest. It helps to talk to other bike commuters about alternative routes. Cyclists are friendly and love to share shortcuts.
Understand the pattern and schedule of other forms of transit you need to link with, like buses with bike racks, trains, and subways. As Kevin says, "Set your watch to bus time." Synchronizing your timepiece with your mass transit connection ensures that you will be able to transfer in a timely manner.
Kevin highly recommends keeping cycling tools with you on all rides — even commutes. In his backpack you will find: a spare tube, a bike pump, a patch kit, tire levers, an Allen key set, a water bottle, and a bungie cord. If you ride a bus as part of your bike commute (which is how many riders cross bridges here in the SF Bay Area), the bungie cord keeps your bike secure inside the bus if the external racks are full.
Figure out the time it takes to ride from home to work so you don't have to rush. If you're in a rush, you start blowing stop signs, and that's just not safe. "If you start running behind, you start putting yourself in danger."
Kevin's commute is long and he rides fast. To deal with the sweat, he brings a change of clothes in his pack and showers once he reaches Clif Bar HQ. This might not be an option for you, but do bring something to wipe yourself down with (I have used baby wipes for this purpose in the past) and a change of clothes. Not all bike commutes are super sweat-producing, so you might be just fine without a shower, but you won't know until you try it.
Thursday, May 13, is Bike to Work Day in San Francisco and the following week, May 17 through May 23, across the rest of the US. Learn more details about what's happening in your area at the American Bike League. See you in the bike lane!