Tips For Creating Treadmill Walk Station
Walk While You Work: DIY Treadmill Work Station
Is working at a desk all day long leading you to pack on the pounds? Burn some calories while you type by turning your treadmill into a walking work station. If you have the money to spend, you can buy a desk that's specifically designed to work with a treadmill, but they can be pretty pricey. If you want to save some dough, all it takes is a little creativity to transform your treadmill into a desk. Here are some things to keep in mind.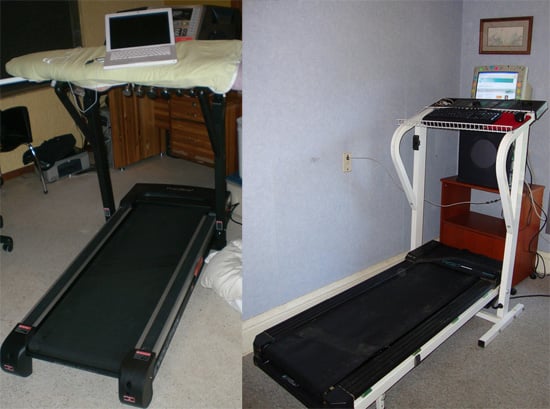 Create a desktop by attaching a flat, nonslip surface like an ironing board (as illustrated above) to the the top of the treadmill. Use twine or rope to safely and securely attach the desktop to the top of the treadmill armrests so there's no risk of it falling off while you walk or type. Make sure this desktop is wide enough to hold your laptop or keyboard and your mouse.
Be sure no cords are dangling down creating potential tripping hazards or that could be caught on your swinging arms.
Keep objects off the desktop that could potentially fall from the vibrations the treadmill creates such as your phone, the remote control, your iPod, or pens.
Try out the treadmill at 0 mph first. Yep. Test out the desk standing before you start typing on a moving belt.
Start off slow and for short amounts of time. As you get used to walking while working, you can increase the speed and distance.
Would you use a treadmill walk station?
Source: Flickr User eliazar and Source: Flickr User cmcbrown