Tips For Cutting Back on Sugar
Tame Your Sweet Tooth With These Tips to Cut Back on Sugar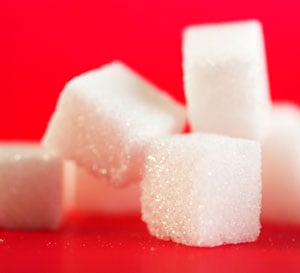 I know that eating too much refined sugar increases my risk of heart disease, type 2 diabetes, high blood pressure, and stroke, but it's so hard to resist sweet treats. If you have a hard time saying no to all things sugar-sweetened and chocolate-covered, here are some ways you can cut down on the white stuff.


Don't go cold turkey. This plan usually backfires and you end up missing the sweet stuff so much you binge on an entire bag of M&Ms. It's best to limit the amount of sweets you eat gradually.
Decrease the amount of sugar you add to foods. Stir less into your morning cup of joe and sprinkle less brown sugar on your oatmeal.
Choose one sweet treat per day. Moderation is key, so if you can't live without a piece of chocolate after lunch or ice cream after dinner, then don't. Designate one time each day to indulge in a little dessert and limit your sugar intake for the rest of the day.
Read labels and watch out for natural sugars. Brown sugar, molasses, Sucanat, and organic sugar are still sugar.
Curb your sweet tooth with these other tips when you read more.


Say farewell to soda and other sweetened beverages. These sugary drinks are also high in calories, so choose water flavored with fresh lemon or lime, seltzer, tea, milk, or plain water instead.
Modify your favorite recipes. I often find that cutting back on the sugar in baked goods doesn't change the flavor too drastically. Or you can whip up healthy alternatives to your favorite decadent treats such as this Frozen Raspberry Creamy, Dreamy Pie made with skim milk and egg whites instead of cream — the fruit makes it naturally sweet.
Choose plain yogurt with fruit instead of flavored yogurt. You'll end up cutting back on sugar and the fruit offers vitamins and fiber as well.
Curb cravings with fruit. Fresh fruit is full of natural sweetness, so the next time you have a cookie craving, reach for a juicy peach, some luscious strawberries, or dried mangoes instead.
Have tips that worked for you? Share them below!