Tips on Cutting Calories
Your Tips on Cutting Calories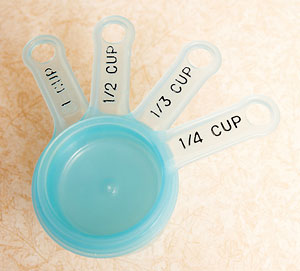 If getting fit in 2010 and finally losing weight is one of your goals, getting portions under control and learning tricks for cutting calories are great ways to make that happen. Here are some of your tips on how to lower your calorie intake.
"Don't drink calories (except milk in cereal)." — pixystik4u
"Spritz olive oil spray instead of drizzling while I am cooking." — frenchys
An anonymous reader said, "Dip your fork in salad dressing with each bite instead of pouring the dressing on. It makes each bite more flavorful and you end up using much less."
"Replace half of every meal portion with salad leaves — whatever it was that you were going to eat, halve your portion, then fill up the plate with baby leaf spinach, or lettuce, anything that is raw, and has no dressing." — ticamorena
Zulkey says, "I try to add low-calorie foods to my high calorie food to bulk it up. Like I made a sausage/bean/crouton/asparagus dish from Smitten Kitchen but put it on a bed of spinach. Other than that, I just try to reduce the amount of butter/oil in a recipe so I still get flavor but save about a hundred calories."
"Keeping up with what you eat in a food journal helps so you can track any extra calories you're taking in. And a big thing that helps me is to try to eat slower. I tend to inhale my food, but if I take time to eat it, I realize I'm full faster." — katyharper
For more of your great tips, keep reading.