Tips For Cutting Down on Sodium
Smarter Eats: 7 Tips to Cut Down on Sodium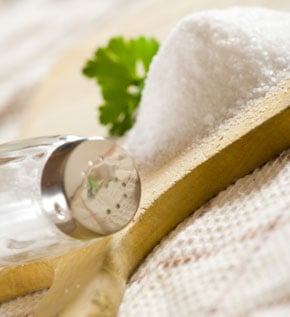 Do you need help stepping away from the salt? Tasty as it may be, sodium is linked to high blood pressure, kidney disease, and even stomach cancer. Here are some tips to get you reduce your sodium intake:
Use as many homemade ingredients as possible when cooking. Canned foods tend to have higher sodium levels. If you do use canned beans, be sure to rinse them well.
Add herbs, spices, and lemon juice in place of salt to flavor dishes.
Buy canned goods that are marked "low-sodium."
Want to see the rest of the tips?
Cook at home so you know your sodium intake.
Toss salt in your hand before putting it on your food so you can see how much you are actually consuming.
Instead of using canned chicken broth or chicken bullion, add a bit of wine to the pot for added flavor. It's perfect for pasta sauces.
Take the shakers off the table entirely. 'Cause what is out of sight may be easier to keep out of mind.
Do you have any tips to share for cutting down your sodium intake?