Tips For Exercising in the Heat
Don't Melt! Tips For Exercising in the Heat
Where I live, Spring has quickly sprung into Summer weather, with sunshiny days and temperatures steadily climbing through the 80s into the 90s. The warm weather motivates me to get outside and exercise, but I'll tell you, the sudden high temps mixed with humidity are kicking my butt. Here are some tips to make working out in the heat safe and more bearable.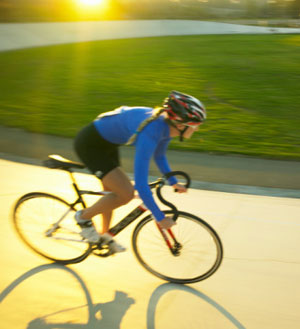 Stay hydrated. Drink water before, during, and after your workout to avoid dehydration. Bring along a water bottle, water belt, or hydration pack and sip about four to eight ounces of water every 15 to 20 minutes.
Ease into hot outdoor workouts, and don't push yourself too hard. Exercise for less time and at a lower intensity, then gradually build up to longer, harder workouts. Listen to your body, and don't be afraid to take breaks if you need to.
Alter your schedule to run during cooler times of the day. Early mornings or late evenings tend to be the best.
Run in shady places like the woods, or breezy places like the beach or along a lake.
Want to know what else you should do? Then
.
Wear light-colored and lightweight clothing that's made with fabric that wicks moisture away from your skin and dries quickly. Avoid cotton t-shirts and shorts since they'll get sweaty, stay damp, and make you feel hotter.
Wear wicking socks and lightweight sneaks to keep your feet cool and dry, and to prevent blisters.
Wear a lightweight hat. It'll absorb the sweat from your head and keep the sun off your face, which will protect your skin and keep you cooler.
Wear sweatproof sunscreen that won't drip into your eyes when you perspire. Also be sure to wash your hands after you apply it, so when you go to rub sweat off your face, you won't rub sunscreen in your eyes.
For fun, weigh yourself before and after a run. You'll find that you lose a pound or more (it's just water weight). Be sure to rehydrate yourself with 16 ounces of water for every pound you "lose."