Tips For Exercising Outdoors in the Winter
Get Outside! Cold-Weather Exercising Tips For Winter
Going for an outdoor run or bike ride when it's 40 degrees outside might not seem like your idea of a good time. The treadmill offers warmth, but exercising outdoors breaks up the monotony of the gym, increases calorie burn, and can also help performance increase. Follow these cold-weather tips for exercising outdoors, and you'll find that Winter workouts aren't as daunting as you think.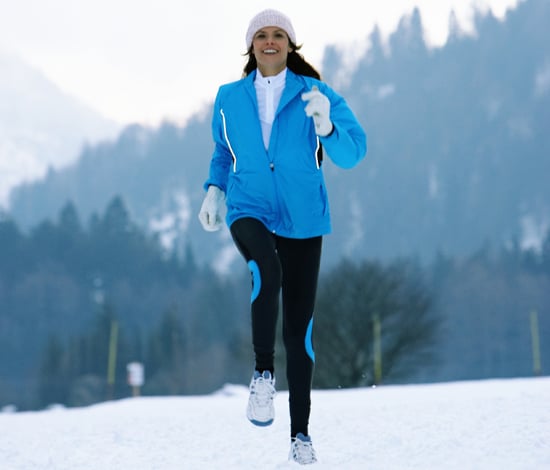 What to wear: Sure you'll work up a sweat, but it's important to dress warmly when exercising in cold weather. In the Winter, it's all about layers (like these cute long-sleeved tops). You also want to make sure that your bottom layer of clothing is moisture-wicking. To avoid overheating but still stay warm, dress like it's 20 degrees warmer than the true temperature outside. Here's a checklist of what to wear for cold-weather workouts.
How to warm up: It's important to warm up before any workout — outdoors or otherwise. It can be even harder to do in cold weather; muscles feel extra tight and the last thing you want to do is brave the elements. Get blood flowing and muscles loose by warming up indoors first. Here are warmup ideas that can be done indoors (even in a small apartment space!).
Keep reading to see more tips on exercising outdoors during the Winter!
Braving the actual workout: Besides colder temps, there are additional challenges that cold-weather workouts present. For one, it can get a little windy out there; make sure to head into the wind first since it'll decrease your chances of frostbite. Watch your step, too. Roads can be slippery and earlier sunsets equal darker runs — invest in a headlamp and reflective gear, and follow these tips for running at night.
After the workout is over: Sweaty workout wear gets chilly in cold Winter air, so change out of your exercise clothes as soon as you get back home. And even though you might not feel as sweaty as you do in the Summer, it's important to hydrate in the Winter — especially after workouts.