Tips For Exercising in the Rain
Drip Tips: Exercising in Summer Rain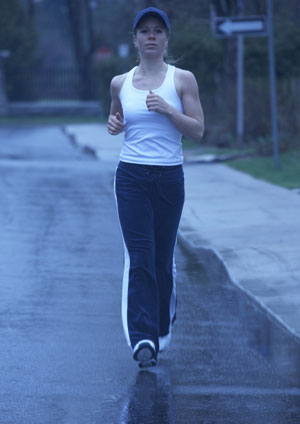 Exercising in the heat and humidity of Summer can be unbearable, not to mention, it can be a health risk. So when the clouds roll in and rain starts to sprinkle from the sky, it can offer relief. If you've never considered exercising in the rain, it's time to give it a try. You just need to arm yourself with these tips.
Check the weather map. A little drizzle is much easier to run in than a full on downpour. Be patient and wait for a bad storm to pass before heading outside.
Just because it's raining, doesn't mean you need to get wet. Wear a water and windproof lightweight raincoat made of breathable material that will keep you dry on the outside and cool on the inside.
Get a pair of shorts or pants made of waterproof material that will repel droplets from the sky and splashes from puddles.
For more essential tips keep reading.


Invest in some waterproof footwear to keep you dry, and wear wicking socks with them. Wet feet are more prone to blisters.
Wear a hat to prevent water from dripping all over your face (a basic baseball hat will do), and/or wear sunglasses to prevent water droplets from spraying in your eyes.
Make sure your clothes are brightly colored so cars can see you. Or better yet, wear a headlamp for even greater visibility.
If you like to listen to music while exercising, make sure your iPod or other device is in a waterproof case.
Run, hike, or bike in the woods or a shady area since the trees will catch most of the rain. Also steer clear of cars since they can splash into puddles and soak you with one whoosh.
As soon as you hear thunder or see lightening, head inside immediately. Getting struck by lightening may be rare, but it does happen. Wait for the storm to pass before going back outside, or stay indoors and do some strength training or a fitness DVD instead.
Do you like to exercise in the rain?