Tips For First Marathon
10 Tips For Running Your First Marathon
I recently ran my first marathon, and from the time I registered for the race to the moment I stepped foot on the course, it was a complete (and exhausting!) learning experience. If you're training for a marathon, keep these tips I learned from my experience in mind (and if you're a marathon pro, share your own tips below!).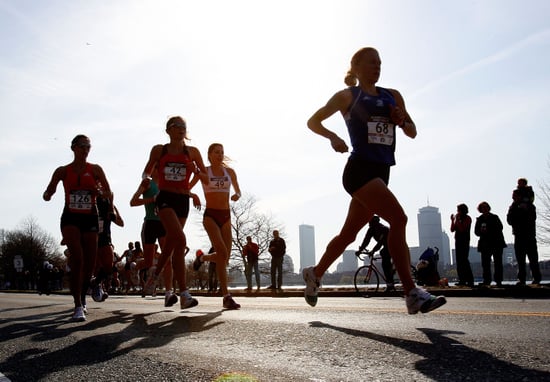 Do a test run: Even if you aren't running the full 26 miles before race day, you still need to know how your body will react when you finally are on the course. Use one of your last long runs as a dress rehearsal and do the whole ritual — wake up at the time you would during the race, eat and drink as you would before the race, and wear the outfit you've picked out.
Ask questions: Whether you're running the familiar streets of your hometown or making your way to a destination race, check online forums or ask runners at the expo if you have questions about what to expect on the course, what to wear, or the best way to get to the starting line. Experienced runners will have info that even the race organizers may not tell you about, so take in any advice you can get!
Monitor the weather: You may have the perfect running outfit picked out on Monday, only to realize that a surprise heat wave is coming by marathon Sunday. Keep tabs on the weather while you prepare for your race, especially if you are traveling. Ask other runners what they are wearing to get an idea of how you should dress (in general, you should dress like it's 15 to 20 degrees warmer than the temperature to avoid layering too much and overheating).
Check the course: It helps to be prepared, so even if you think you know the course, check out as much information as possible before your big day. Not only should you check out the actual course and its elevation, but you'll need to know the frequency of water stations, restrooms, and gel stations to be even more prepared.
Know your routine: You should have a plan for everything come the morning of your race — from which alarm you're going to use to wake up to what you're eating and where you're stopping for coffee before you get to the course. Give yourself ample time to arrive at the starting line; you'll need time to digest your breakfast, go to the bathroom, and find parking, so don't keep hitting the snooze button.
Get some sleep: It's not just you; even runners who have many marathons under their belt still get nervous before a race. After all, you've prepared for months to get to the big day, so it's understandable that you have a few jitters. But instead of staying up nervously watching TV or trying to take your mind off your worry by going out with friends, make sleep a priority. Go to bed early, and give yourself enough downtime to relax and drift off to sleep so you don't add additional stress by worrying whether you're getting enough hours of shut-eye.
Read on for tips for what you should do on race day.
Stop stressing: You've prepared for weeks, so now's the time to have fun. Stop thinking about the runs you had to skip because you were sick or the fact that your pace is slower than you'd like — you're about to accomplish a major goal, so now's the time to enjoy the hours-long journey, from your fellow runners to the encouraging bystanders.
Ignore everyone's pace: No matter what your pace, unless you're an elite or experienced marathon runner, you'll probably notice that many people will be passing you at the start. Don't try to keep up with the girl who just flew by you; the worst thing you can do is expend too much energy at the start of a very long race only to hit the wall miles before the finish line. Instead, keep the pace you planned for by using a heart rate monitor or keeping track of your time at every mile checkpoint, and only speed up according to plan.
Plan your bathroom break: Chances are you'll have to make a pit stop, but waiting in line won't exactly help you beat your best times. If possible, make time to go right before you start (schedule in the time you'll need to wait in line) so you can go when you see an open Porta Potty so you can get in and out and not waste precious minutes.
Wear your name: Trust me, you'll need some encouragement from the bystanders at some point along the course. Wear your name visibly on your shirt or write it on your arm; you never know when someone will give your spirits a lift by cheering for you personally.