Tips For First-Time Skiers or Snowboarders
I love going up to the mountains in the Winter to try my hand at snowboarding for a day. But since I only make it up once a season, I'm far from an expert snow bunny. In fact, I spend much of the time making it precariously down the easiest of slopes, tumbling and scooting along the way.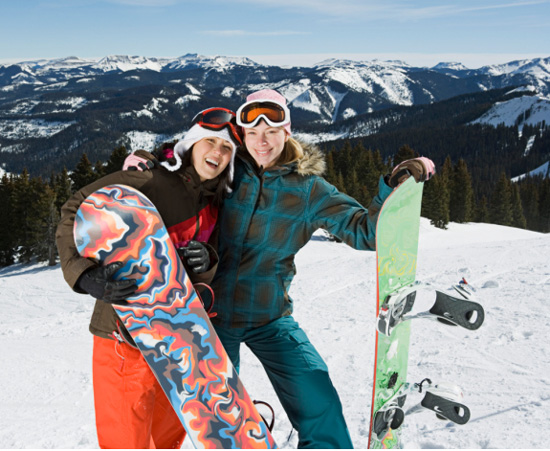 Even though next-day sore muscles are always a painful reminder about how much I have yet to learn, I love the feeling of gliding down a mountainside. But while skiing and snowboarding are fun ways to exercise and burn calories, the sports can seem intimidating if you don't know what to expect.
Preparing for the mountains is essential to making sure you have a safe and fun time, so if you are a snowboarding or skiing newbie looking to hit the (gentle) slopes, check out some of my tips for beginners after the break.
Do your pretrip exercises. Before your trip, add some strength-training and balance exercises to your fitness routine so you can be the best you can be while making your way down the slopes. I also suggest adding push-ups, too, especially if you're boarding. A little extra upper body strength will help you get back up after a tumble.
Bring snacks. Many times the type of food offered at restaurants on the mountain can mean choosing between greasy fries or greasier pizza, so if you're looking for a quick refuel remember to bring some energy-boosting snacks like granola or protein bars along with you.
Bundle up, but not too much. Even though it's cold, exercising in the snow means your body will get warmer as your session goes on, so don't wear too many clothes underneath your ski gear. Check the conditions before you head out, and if you are unsure, take an extra layer — you can always leave it in a locker once you're at the resort if you end up being too hot.
Fall correctly. I am constantly reminding myself to not use my hands and outstretched arms to break my fall, since it can lead to serious wrist injury. Instead, try to fall on your side to disperse the impact and as an extra precaution you may want to invest in a ski helmet before you go.
Take a lesson. If you are completely new to the sport and aren't going with someone who can teach you, taking lessons is a must. You'll be able to get one-on-one attention and practice correct form before taking on the trails for yourself.
Snowboarding or skiing enthusiasts, have any more tips for first-timers?