Tips For Going Gluten-Free
Tips to Loving a Gluten-Free Life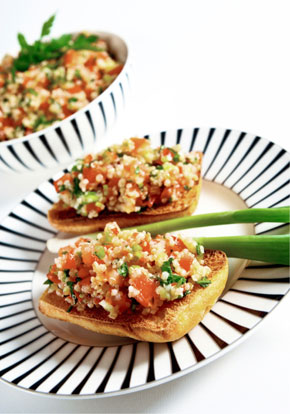 For many of us, eating a sandwich is no big deal. For others, like celiac disease sufferers, it is a big deal. Gluten challenged, they can't just order up a sammy with any old bread. They have to make sure the loaf is free of gluten or get creative with their options. While some folks are diagnosed at an early age, some don't discover the dietary restricting disease until adulthood when changing lifelong eating habits becomes a major hurdle.
If you are looking to cut some gluten out of your diet or know someone who is, help them out by giving them these pointers.
Do your research. Make a cheat sheet of all the ingredients you cannot have and keep it in your wallet so you won't be paralyzed in the grocery store aisle.
Find out how to read a food label. Don't rely on the "Gluten-Free" stamp alone. You may miss out on valid options if you are soley dependent on that.
Go to a Whole Foods type grocery store to find all of the GF options available to you. Load up on a few cake and cookie mixes to brighten your spirits. Just don't eat the whole box!
Research what restaurants carry GF menu options and learn how to make non-GF meals work for you.
Get creative in the kitchen. Use your new ingredients to come up with innovative recipes. If you're not a chef kind of gal, sign up for a GF cooking class. You may get some good tips from other attendants, too!
Ready to see the rest of our pointers?
Share your story. Getting on blogs and airing your story helps you to learn more about your own situation while hopefully learning a few pointers from people who have "been there, done that."
Keep a food journal. As you experiment with new foods, you may be challenged to remember which ones you liked or didn't. Track them so you can remember which ones to revisit.
Write it down. Along with keeping a food journal, it can be helpful to keep track of your days as you progress into the GF life. Because of the change in diet, your energy levels and exercise habits may change. It could be a positive experience to track it and give yourself motivation to keep on going!
Share your tips in the comments below!