Tips For Going to the Gym
See Results With These Essential Gym Habits
If you're not an outdoor exerciser, a gym membership can be the most efficient way to make sure you stick to your workout goals. But while half the battle may be getting there, you shouldn't make your visit a waste of time. Here are some tips for making sure your visits to the gym are spent well.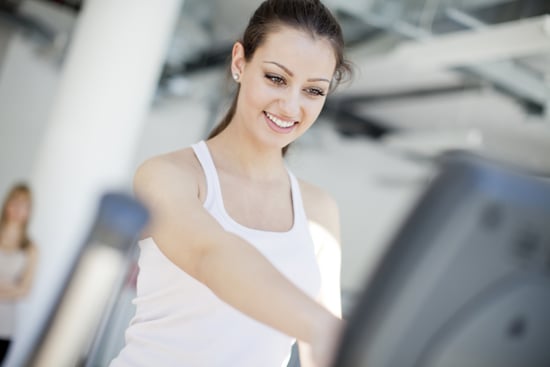 Warm up: Don't skip this part — starting out without warming up properly can make you want to cut your workout short in no time. If you're hopping on a cardio machine, spend a few minutes at a light intensity to ramp up your heart rate before you go all out. You can also do this dynamic warmup to get muscles ready for your workout.
Work up a sweat: If you want results, it's time to put down the magazine. Intense cardio intervals are your friend — not only do they burn major calories in less time, but they also help you become more fit by increasing your endurance and speed. And don't forget about all the calories you'll burn after the fact; intense intervals give you the highest amount of afterburn.
Don't be intimidated: There are so many options at your gym, it can be easy to fall into a routine that ignores exercises and machines that would be good for you in favor of being comfortable in your regular workout. But that tunnel vision could make you miss out on exercise that's just the ticket to moving past a plateau and seeing the results you've been waiting for. The next time you're at the gym, ask a trainer to show you the ropes on new-to-you equipment; from the overlooked rowing machine (read our tips on how to use the rowing machine here) to the weight room (don't worry, we've got you covered — be confident in the weight room with these tips!), make sure you're getting the most from your time at the gym.