Tips For Going on a Juice Cleanse
Juicy Cleanse Tips From LA-Based Moon Juice Founder
Just as her name implies, Amanda Bacon was not always all about health food. As a former chef and line cook who "drank too much wine and coffee, and ate steak and cookies all day long," Amanda turned to juicing when her life felt "a little out of control." Her LA-based juice bar Moon Juice has become a hot spot for healthy folks where she sees "miracle after miracle" as she helps people move through their first cleanse. We chatted about some tips to make the process less intimidating.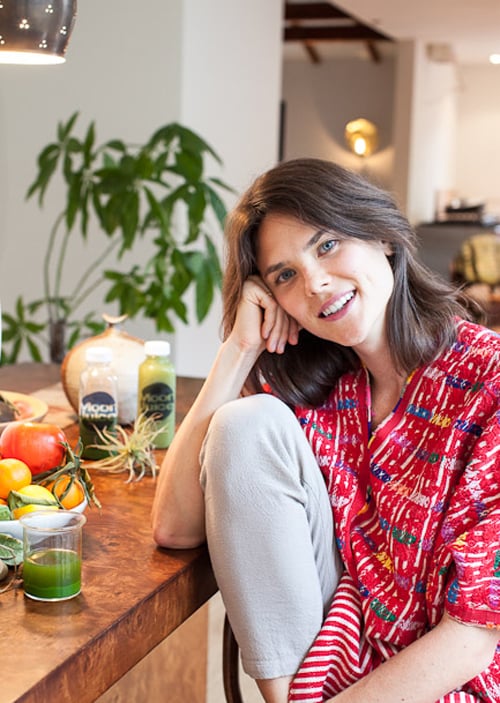 "You don't have to go all the way." Everyone doesn't need to go on a strict and lengthy cleanse to reap the healthy benefits of juice. While cleansing "one to four times a year" (for about three days) makes such a difference in your mind and body, just having one juice a day makes a big difference. For those interested in trying a shorter plan, Amanda suggested a one-day cleanse where you drink four or five juices. If your body is feeling like it needs food that day, commit to making a clean and healthy choice to complement your cleanse.
"Make yourself comfortable." Before going on a cleanse, you have to start getting honest about the lifestyle you're leading. Amanda explained that "the majority of our clients are not women in their 20s, 30s, and 40s, or coming from yoga class and look really fit and beautiful. That's the cliche. We get all walks of life." If you drink, smoke, are dependent on caffeine, and eat loads of light sugar, going cold turkey on a cleanse is always an option. However, if you want to make the process a little less painful, cut down on your unhealthy choices "one week to five days" before your cleanse.
"Follow your body." Every cleanse is different. By "opening yourself up to listening to your body and giving it the space and time to do what it needs to do," you're putting yourself in a perfect position for a successful cleansing experience. Amanda explained that sometimes you may feel full of energy and other times you might feel "detoxy and fluish." But however you feel, following your body will help you on your journey.
Source: Shelby Duncan