Tips For Healthier Wraps
Don't Just Roll With It: How to Make a Healthier Wrap
Wraps seem like a healthier option than a traditional sandwich since they're not made with thick slices of bread, but depending on what you fill yours with, they can end up being a huge plate of calories and fat. Whether ordering a wrap at your local cafe or rolling one up at home, keep these tips in mind.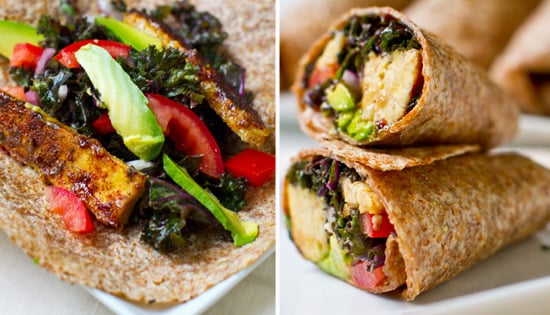 Choose your wrap wisely: There are a whole range of flavors from spinach to sun-dried tomato, and even though these seem to offer extra veggies, they're often made with enriched flour. Be a label reader and ensure the first ingredient in your wrap is a fiber-filled whole grain.
Use veggies as wraps: For even fewer calories, use greens such as chard, romaine, or spinach. Check out this recipe for veggie chard wraps, or get a little creative by using cucumber as the wrap.
Experiment with protein: Make the texture of your wrap more exciting and up the nutritional content by getting creative with proteins you normally wouldn't wrap up. For a thick and chewy texture, add flavored tempeh as in these kale avocado wraps with spicy miso-dipped tempeh. Grilled fish or hard-boiled eggs are another tasty protein-packed addition, or go for baked tofu, beans, and even cooked whole grains.
Read on for more tips for healthier wraps.
Ask for healthy swaps: While the standard BLT has only three main ingredients, who says you can't add roasted turkey or swap the iceberg lettuce for calcium-rich spinach? Likewise, if a wrap comes standard with ranch dressing or four different kinds of cheese, don't be afraid to ask the person behind the counter to hold those high-calorie extras.
Load up on the veggies: Low in calories and high in water and fiber content, adding tons of fresh veggies will make your wrap that much more filling. Lettuce and tomato aren't the only way to go. Get creative with sprouts, shredded carrots, sliced sweet potato, roasted asparagus, and sautéed kale.
Watch the sauces and dressings: Mayo is a traditional sandwich condiment, but it's full of fat and unnecessary calories. Slim down your wrap by swapping the mayo for dill dressing made with nonfat Greek yogurt, or choose a low-cal dressing from the bottle to add some zesty flavor. Salsa is another healthy condiment, as well as hummus, or spread on some ripe avocado.
Go for cheese, but go thin: When buying cheese from the deli counter, ask them to slice it super thin. You'll get the flavor and creamy consistency you crave, but for fewer calories per slice.
Get half to go: If you order a wrap while out to eat and you're greeted with an enormously thick wrap you can barely get two hands around, keep portion size in mind by saving half the wrap for the next day's lunch.

Source: Healthy Happy Life