Tips For a Home Yoga Practice
Mat Motivation: Creating Your Yoga Practice at Home
Yoga may be blissful, but it ain't cheap. Prices range from $10 to $30 per class, and if you want to practice at least three times a week, that's a hefty load of dough. I'm not saying yoga is not worth the money; but in these tight economic times, your budget might not be as flexible as your hips. That's where a home yoga practice comes into play. It can be tough to motivate for a full 60- or 90-minute routine like you're used to at your studio, so here are some tips to help you find serenity on your mat at home.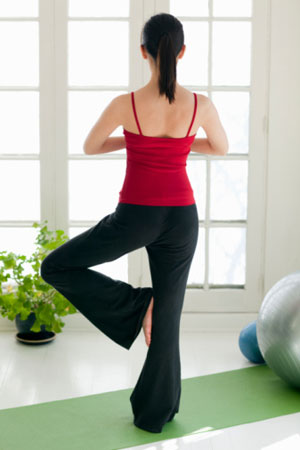 Set up serene space. Find a spot in your home that is clean, free of clutter, free of distractions (like TV, pets, and kiddos), and a place that makes you feel calm. I like to practice on my deck outside, but you may prefer a quiet room that has a big window.
Pick a day and time to practice. Just as you have a class scheduled at your yoga studio that you can't miss, set up a class schedule at home. Start off with once a week, so it doesn't feel forced, and gradually add a day or more when you're ready.
Don't expect to do a full 90-minutes. Start off with something reasonable, like 20 minutes, and as you get used to doing yoga at home, your body will crave a longer practice.
For more tips keep reading
Pick up some new music. Silence may not be your thing, especially if you can hear your neighbor practicing their tuba solo, or your boyfriend is playing video games in the room next door. From soothing chimes and tabla beats, to loud and rhythmic chanting, there's so much to choose from and it can help increase your energy, which will inspire you to practice longer.
Pop in a yoga DVD. Unless you're a yoga instructor or practicing a set series of postures like in Ashtanga, it can be tough coming up with a sequence to fill up a long practice. So take the guesswork out of your home practice and follow along with Shiva Rea or Trudie Styler (two of my faves).
Print out a sequence. Not into a DVD? Grab some books and write out a sequence, or print out these that I've posted:
Lower Body Yoga Sequence
Tone Your Tush
Total Body Yoga Flow
Get Wow Arms
Yoga Sequence to Combat Stress
Kick everyone out. If you can, practice when no one else is home so you won't be interrupted. If that's not possible, make an announcement that you're going into your "yoga studio," or put a note on the door so people will let you stretch in peace.
Practice with a friend or a few. Who said a home practice has to be solo? Practice side-by-side with your partner, roommate, best friend, or some neighbors down the street. The energy and breath of others does wonders with inspiring you to keep moving.
Do you have a regular home practice? Tell me about it in the comments section below.